RETURNING TO GOD 
Do you know the secret of Christians whose lives are full and vital and productive for the kingdom of God? It's not that they never face opposition or failure. Their secret of success is that when they do, they return to God. They just keep going back to Him for guidance, encouragement, wisdom and strength.
Moses was following God's precise instructions when he went to Pharaoh and asked for the release of the Hebrews so that they could worship God in the wilderness. But Pharaoh's response wasn't what Moses anticipated. "If you have enough time to worship," he said, "you've got more time than I thought. From now on, I'm holding you to your production quota of bricks, but you've got to gather all your own materials, too."
Moses was in a jam. He had done God's will, yet he was boxed in by Pharaoh's edict and his own people's anger. Forty years before, he would have run away. This time, he ran to God. When your life bottoms out, run. But run in the right direction. When we run to God, whether we are crying, questioning or complaining, we've come to the right place. The walk of faith is a constant returning to God and venturing out, over and over again.
MEMORY VERSE 
Then Moses returned to the lord...
READ THROUGH THE BIBLE 
Click here to sign up for your free Winning Walk newsletter!
OUR THANK YOU TO YOU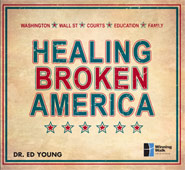 Healing Broken America
CD Series