A Better Time
by Berni Dymet
Luke 4:13 When the devil had finished every test, he departed from him until an opportune time.
CS Lewis once said this about the devil:
There are two equal and opposite errors into which our race can fall about the devils. One is to disbelieve in their existence. The other is to believe, and yet to feel an excessive and unhealthy interest in them. They themselves are equally pleased by both errors and hail a materialist or a magician with the same delight.
Someone once expressed surprise when I mentioned that I believed in the existence of the devil - Satan. They said, "How can you believe in those old wives tales?" And my answer was simple - because Jesus believed in the existence of this devil.
That same devil who tempted Him in the wilderness after 40 days and nights of starvation. That same devil who left Jesus after failing to succeed in tempting Him. That very same devil who departed from Jesus with the clear intention of returning "at a more opportune time."
That same devil is real today. He's there and he's looking for someone to devour.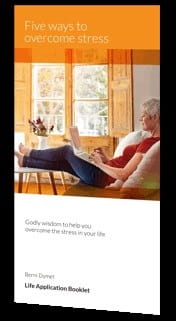 Your FREE eBooklet - "Five Ways to Overcome Stress"
The alleviation of stress is the number one felt need in society today. More than a half of all visits to the doctor are stress related. How about you? On a scale of zero to ten, how "stressed out" are you? There will always be pressures in life. That's a given. But stress is actually our response to those pressures and as such, it's something that, with God's help, we can overcome. That's what our latest Life Application Booklet is all about: Five Ways to Overcome Stress. We would absolutely love to send you your very own FREE copy to help you experience God's peace, in the middle of the pressures in your life.