I'm Not Going

by Berni Dymet
Matthew 6:19-21 Do not store up for yourselves treasures on earth, where moth and rust consume and where thieves break in and steal; but store up for yourselves treasures in heaven, where neither moth nor rust consumes and where thieves do not break in and steal. For where your treasure is, there your heart will be also.
We've all heard that saying about money that  - well you can't take it with you. In other words, money's temporary - not eternal.
But before I gave my life to Jesus, my response to that was - well, if I can't take it with me, I ain't going! Funny perhaps - but also pretty stupid. We're all going one day - whether we want to or not.
I was listening to a man tell his story the other day of lying alone in a dark room, with radioactive isotopes pumping through his body to treat the cancer and - God really confronted him in that dark place about his sense of security.
Was he trusting in God - or had he been trusting in money? I imagine that at the point of staring death in the face like that - that money becomes pretty much irrelevant.
So - why is it that we cling on to money, strive after wealth, worry about finances? Why do we treat money as though it's somehow a matter of life or death?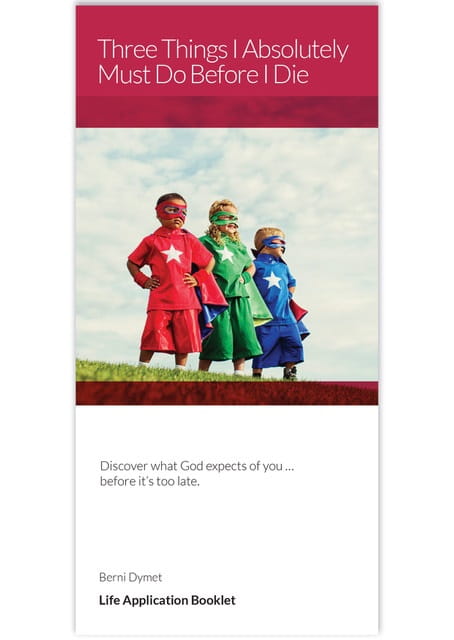 YOUR FREE BOOKLET – THREE THINGS I ABSOLUTELY MUST DO BEFORE I DIE
Here's a vital question for you to consider: If you died tonight, would you be ready for eternity? Now, many people know that it's all about having a simple faith in Jesus Christ. Nothing more, nothing less. But … do you have the sort of faith that Jesus talked about? To help you answer that question for sure, that's what our latest Life Application Booklet is all about: Three Things I Absolutely Must Do Before I Die. We would absolutely love to send you your very own FREE copy to help you make sure that you have the right answer, to the most important question of all.