from Day by Day with the Persecuted Church

If you should suffer for what is right, you are blessed ... in your hearts set apart Christ as your Lord. Always be prepared to give an answer to everyone who asks you to give the reason for the hope that you have. But do this with gentleness and respect, keeping a clear conscience. (1 Peter 3:14-16)
Oswaldo Magdangal
Every testimony of struggle and victory contains a danger. After all, the person in question can be made the center of attention so much so that not Christ, but a man or woman is glorified. When you read about victories in the coming week, you must not think: how strong this man's faith was!
When you read about his pain, you must not think how he suffered!
Brother Wally himself said the following, "My testimony is not even my testimony, really, but the story of the Lord Jesus Christ in my life. Every Christian has a story to tell and it is always the story of Jesus. That is the most wonderful thing about being a Christian - we have a common story to tell, the story of what Jesus Christ did in our lives. I thank God that a Christian's life is the best life conceivable. Everything else pales into insignificance beside the privilege of being called a child of God."
So let our life and suffering, our struggle and our victory, our words and silence always glorify His holy Name. "Not to us, O Lord, not to us, but to your name be glory" (Psalm 115:1).
Oswaldo Magdangal from Saudi Arabia. This Filipino brother ministered in Saudi Arabia where he testified of his Savior even while being threatened with hanging.
Copyright [C] 1995 Open Doors International. Used by permission.
Click here to sign up for a free monthly newsletter from Open Doors about persecuted Christians.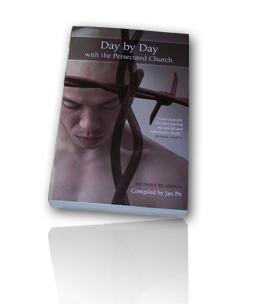 Day by Day with the Persecuted Church
compiled by Jan Pit with a forward by Brother Andrew (paperback, revised 2000)
Compelling wisdom from the pen of actual believers living amidst persecution, you'll be connected to the suffering, courage, and depth of life that exists in the harshest places in the world. Each of these 365 thought-provoking devotions will deepen your understanding of Christian persecution and provoke you to pray for our brothers and sisters with a new found depth.