from Day by Day with the Persecuted Church

About midnight Paul and Silas were praying and singing hymns to God, and the other prisoners were listening to them. (Acts 16:25)
Paul
Paul and his co-workers had just entered into Europe and they had landed in prison. They had released a poor woman from evil spirits - to the great annoyance of her masters who had made a lot of money through her as a fortune-teller. In place of thankfulness (she could lead a normal life again) there was opposition. Paul and Silas were thrown into prison after being stripped, beaten and severely flogged. There they sat with their bleeding backs and their feet firmly secured in the stocks.
However, with every reason to complain, Paul and Silas turned the prison into a church. They preached the Gospel to the other prisoners who had to listen for it was impossible to walk out of "that church." Paul had a captive audience. They preached, prayed and sang songs to the glory of God. They turned a bad situation into good account.
It is remarkable that this happens, even today. Christian prisoners witness to their faith. This takes courage and faith which comes from the Lord, just like the experience of Paul and Silas.
Prisoners came to faith. When the earthquake came, the walls shook and the doors flew open, but not one prisoner took advantage of the freedom.
They stayed listening to Paul whose message of true freedom hit them like a bolt from the blue.
It is possible to remain faithful to God in all circumstances because He gives strength to go through.
Pray, with thanksgiving, for Christian prisoners you know. God can also use them - in answer to your prayers.
Copyright [C] 1995 Open Doors International. Used by permission.
Click here to sign up for a free monthly newsletter from Open Doors about persecuted Christians.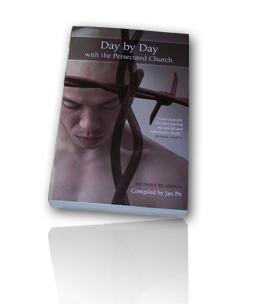 Day by Day with the Persecuted Church
compiled by Jan Pit with a forward by Brother Andrew (paperback, revised 2000)
Compelling wisdom from the pen of actual believers living amidst persecution, you'll be connected to the suffering, courage, and depth of life that exists in the harshest places in the world. Each of these 365 thought-provoking devotions will deepen your understanding of Christian persecution and provoke you to pray for our brothers and sisters with a new found depth.