from Day by Day with the Persecuted Church

He who dwells in the shelter of the Most High will rest in the shadow of the Almighty. (Psalm 91:1)
Horacio Herrera
While ministering to the believers in Cuba during a time of crisis we came across Joshua 20. It talks about the "cities of refuge" and we compared it with God, who is our eternal refuge. The cities of refuge in Joshua 20 were for those who had killed somebody accidentally or unintentionally. They could flee to those cities and find protection until they had stood trial (Joshua 20:6).
Psalm 91 speaks about God, our eternal refuge. We may flee to Him in times of trouble. We do not have to stand trial, because that trial has already taken place, "He forgave us all our sins, having canceled the written code, that was against us and that stood opposed to us: he took it away, nailing it to the cross" (Colossians 2:14). We can therefore call on the Lord in days of trouble and say, "You are my refuge and my fortress, my God, in whom I trust" (Psalm 91:2).
And listen to the promise, "He will save you from the fowler's snare ... He will cover you with his feathers and under his wings you will find refuge; his faithfulness will be your shield and rampart. You will not fear the terror of the night, nor the arrow that flies by day ... I will be with him in trouble; I will deliver him and honor him. With long life will I satisfy him and show him my salvation" (Psalm 91).
Is there anything troubling you? Flee to Him, your eternal refuge, and rest in the shelter of the Most High, your Abba, your Father.
Horacio Herrera from Cuba. Because of his leading role in the Cuban Church, he writes using a pseudonym.
Copyright [C] 1995 Open Doors International. Used by permission.
Click here to sign up for a free monthly newsletter from Open Doors about persecuted Christians.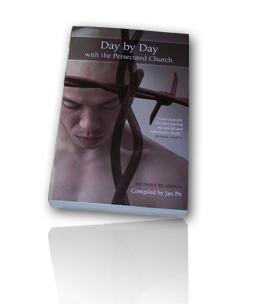 Day by Day with the Persecuted Church
compiled by Jan Pit with a forward by Brother Andrew (paperback, revised 2000)
Compelling wisdom from the pen of actual believers living amidst persecution, you'll be connected to the suffering, courage, and depth of life that exists in the harshest places in the world. Each of these 365 thought-provoking devotions will deepen your understanding of Christian persecution and provoke you to pray for our brothers and sisters with a new found depth.