from Day by Day with the Persecuted Church

So Peter was kept in prison, but the church was earnestly praying to God for him  (Acts 12:5)
Brother Jacob
With me in the cell was a man accused of co-operating with a rebel group in our country. This was never proven however, but in a Marxist country, proof is not essential. Even the least suspicion is enough for you to face a firing squad. We all knew that within the next week this man would be executed. He was filled with fear and listened very attentively to the Gospel.
One day we decided to stand around him and pray for him. His heart cried to God. We worked out a plan to get him out of prison. We did not know if our plan would work, but we prayed and planned his escape. Every morning we were taken from the cell under armed guard to wash. When an armed soldier opened the door, we were marched down the corridor. Another soldier, with a machine gun, stood at the entrance to the washroom. As agreed, we all turned straight into the washroom, except our friend who kept walking straight on, into freedom. The two armed guards did not make a move to prevent him from escaping, for at that moment their eyes were blinded, just as we had prayed.
Joy filled our hearts when we witnessed this miracle. Yes, miracles can still happen if you stand in prayer around those in captivity.
Brother Jacob from Mozambique. He and Open Doors work closely together.
Copyright [C] 1995 Open Doors International. Used by permission.
Click here to sign up for a free monthly newsletter from Open Doors about persecuted Christians.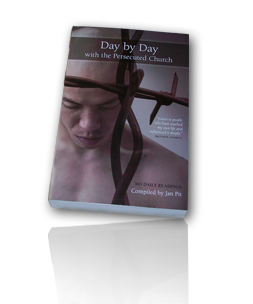 Day by Day with the Persecuted Church
compiled by Jan Pit with a forward by Brother Andrew (paperback, revised 2000)
Compelling wisdom from the pen of actual believers living amidst persecution, you'll be connected to the suffering, courage, and depth of life that exists in the harshest places in the world.  Each of these 365 thought-provoking devotions will deepen your understanding of Christian persecution and provoke you to pray for our brothers and sisters with a new found depth.
 To order your copy of this devotional, click