from Day by Day with the Persecuted Church

The prayer of a righteous man is powerful and effective. (James 5:16b)
Brother Jacob
That short message on a piece of paper, hidden in a rice bowl was a tremendous assurance of God's faithfulness to me and to my family. At the same time I was well aware of the prayers of others for me.
What encouraged me greatly was the news which I received through local Christians who visited me in prison that brothers and sisters around the world were praying for me.
When someone was led away from the prison cell we would often hear the muffled gunshots somewhere in the prison complex. I often thought that it could be my turn tomorrow. "Father, please tell your children around the world to pray for me." I believe He did. I believe they did. Oh, how I could rest in the knowledge and comfort of those prayers, regardless of what tomorrow would bring. May I encourage you today with these words:
Your prayers are heard-
Your prayers are answered-
Your prayers for us are experienced by us.
What a great spiritual bond - all over the world.
Brother Jacob from Mozambique. He and Open Doors work closely together.
Copyright [C] 1995 Open Doors International. Used by permission.
Click here to sign up for a free monthly newsletter from Open Doors about persecuted Christians.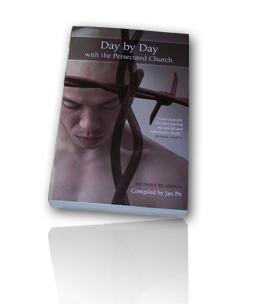 Day by Day with the Persecuted Church
compiled by Jan Pit with a forward by Brother Andrew (paperback, revised 2000)
Compelling wisdom from the pen of actual believers living amidst persecution, you'll be connected to the suffering, courage, and depth of life that exists in the harshest places in the world. Each of these 365 thought-provoking devotions will deepen your understanding of Christian persecution and provoke you to pray for our brothers and sisters with a new found depth.