from Day by Day with the Persecuted Church

Then Caleb silenced the people before Moses and said, we should go up and take possession of the land, for we can certainly do it. (Numbers 13:30)
Caleb
It takes courage to stand alone. It is much easier (and safer!?) to follow the crowd. Nobody will notice you. As the saying goes, "By stepping out of the crowd, you become the target."
Yes, whoever has courage to stand up for his convictions will soon become a target. Caleb was such a man. While the other ten spies said that it was impossible to possess the promised land, Caleb (and Joshua) said it could be done.
It is easy to say that it is impossible. Everybody can say that. It requires courage and faith to say, "It can be done."
God seeks people today who dare to stand up for their faith and convictions even though the consequence may be that they will soon stand alone.
Remember that, the crowd never reached the promised land, they never will. Only those who do not follow the crowd in doing wrong (Exodus 23:2) will receive God's fullest blessing. Caleb was such a man.
The former Queen of Holland, Wilhelmina, was such a woman, when she said, "I am lonely, but never alone."
Martin Luther was such a man, when he said, "One plus God equals a majority."
You can be such a person, because such a God is standing by, at school, at work, in your family - always, everywhere.
Copyright [C] 1995 Open Doors International. Used by permission.
Copyright [C] 1995 Open Doors International. Used by permission.
Click here to sign up for a free monthly newsletter from Open Doors about persecuted Christians.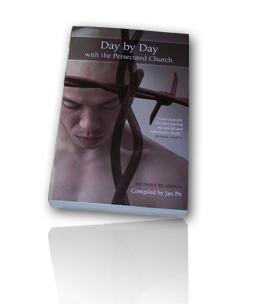 Day by Day with the Persecuted Church
compiled by Jan Pit with a forward by Brother Andrew (paperback, revised 2000)
Compelling wisdom from the pen of actual believers living amidst persecution, you'll be connected to the suffering, courage, and depth of life that exists in the harshest places in the world. Each of these 365 thought-provoking devotions will deepen your understanding of Christian persecution and provoke you to pray for our brothers and sisters with a new found depth.