from Day by Day with the Persecuted Church

"But when they arrest you, do not worry about what to say or how to say it. At that time you will be given what to say, for it will not be you speaking, but the Spirit of your Father speaking through you." (Matthew 10:19)
Mehdi Dibaj defense - part 1
Not long ago, Mehdi Dibaj had to appear before the judge in Iran. In the courtroom, a defense written by Dibaj himself was read. It sounded like the testimony of a modern Paul. In the next few days we will copy this testimony in abridged form, without trying to rewrite it in devotional form. The testimony speaks for itself.
"With all humility I express my gratitude to the Judge of all heaven and earth for this precious opportunity and with brokenness I wait upon the Lord to deliver me from this court trial according to His promise. I also beg the honored members of the court present to listen with patience to my defense and with respect for the name of the Lord.
I am a Christian, a sinner who believes that Jesus has died for my sins on the cross. Jesus paid the penalty for our sins by His own blood and gave us new life so that we can live for the glory of God. He has asked me to deny myself and to be His fully surrendered follower and not fear people even if they kill my body.
I have been charged with 'apostasy.' In Islamic law an apostate is one who does not believe in God, the prophets or the resurrection of the dead. We Christians believe in all three."
This is the first part of Dibaj's defense, full of courage and faith. That is what the Lord will give to all who are not ashamed of the name of Christ.
He predestined us to be adopted as his sons through Jesus Christ, in accordance with his pleasure and will.
(Ephesians 1:5)
Mehdi Dibaj is from Iran. While this book was being compiled, Mehdi Dibaj had been in prison for nine years. Early in 1994 he was released, but was murdered six months later. His courtroom defense was edited to form part of this book.
Copyright [C] 1995 Open Doors International. Used by permission.
Copyright [C] 1995 Open Doors International. Used by permission.
Click here to sign up for a free monthly newsletter from Open Doors about persecuted Christians.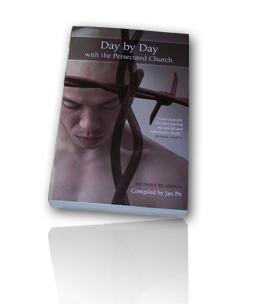 Day by Day with the Persecuted Church
compiled by Jan Pit with a forward by Brother Andrew (paperback, revised 2000)
Compelling wisdom from the pen of actual believers living amidst persecution, you'll be connected to the suffering, courage, and depth of life that exists in the harshest places in the world. Each of these 365 thought-provoking devotions will deepen your understanding of Christian persecution and provoke you to pray for our brothers and sisters with a new found depth.