from Day by Day with the Persecuted Church

By faith the prostitute Rahab, because she welcomed the spies, was not killed with those who were disobedient.
(Hebrews 11:31)
Rahab
It states plainly enough - Rahab the prostitute. And that in the gallery of the heroes of the faith too!
It is mentioned in Joshua because it belongs there but to be stated a few thousand years later, in Hebrews 11, seems to be so unchristian.
Yet she is not called by name and surname in Hebrews to show how terrible her past had been. On the contrary, Hebrews chapter 11 tells us that Rahab, by God's grace, began a totally new life.
This sinful, pagan woman turned to faith in God. That is what it is all about. That is what it is always about. It is as if the Bible in Hebrews 11:31 is calling out - God can make all things new. Just as Paul says, "Therefore, if anyone is in Christ, he is a new creation; the old has gone, the new has come!" (2 Corinthians 5:17).
God changes a prostitute into a saint. That is why she is included in Hebrews 11.
We find Rahab again in Matthew chapter 1 in the family tree of the Lord Jesus Christ. Rahab was the new mother-in-law of Ruth, the great-grandmother of David from whose lineage Christ was born.
Glory be to Him Who loved us,
Washed us from each spot and stain!
Glory be to him Who bought us,
Made us kings with Him to reign...
Copyright [C] 1995 Open Doors International. Used by permission.
Click here to sign up for a free monthly newsletter from Open Doors about persecuted Christians.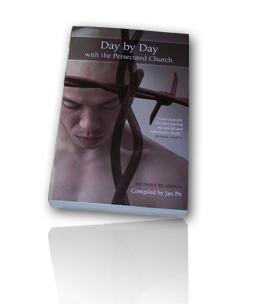 Day by Day with the Persecuted Church
compiled by Jan Pit with a forward by Brother Andrew (paperback, revised 2000)
Compelling wisdom from the pen of actual believers living amidst persecution, you'll be connected to the suffering, courage, and depth of life that exists in the harshest places in the world. Each of these 365 thought-provoking devotions will deepen your understanding of Christian persecution and provoke you to pray for our brothers and sisters with a new found depth.