from Day by Day with the Persecuted Church

The Lord watches over you - the Lord is your shade at your right hand. (Psalm 121:5)
Sister Chen
Difficulties, as high as mountains, come rushing towards me. Strong waves dash against my heel. When the power of darkness focuses on me to attack my faith, I lift my eyes to the hills and ask the Lord for help. He speaks to me, "My strength is made perfect in the weakness of men." This is always a wonderful paradox. I therefore worship His way, with tears.
The greatest joy in my life is to be under the protection of the Holy Spirit, freely walking in and out between the gap of the lion's teeth. I am in the shelter of the right hand of the Almighty, so that the devil cannot touch me. With His grace I can have victory over strong winds and high waves, defeating the attacking enemy.
The Lord is our shade at our right hand. You see the shade when you walk in the light. When there are clouds you may not be able to see that shade clearly ... but it is still there … because He watches over our lives. He will watch over our coming and going, both now and forever more.
Sister Chen is from China and is a pillar of God's house in this vast land. Due to security reasons, we cannot introduce her further to you, but her testimony speaks for itself.
Copyright [C] 1995 Open Doors International. Used by permission.
Click here to sign up for a free monthly newsletter from Open Doors about persecuted Christians.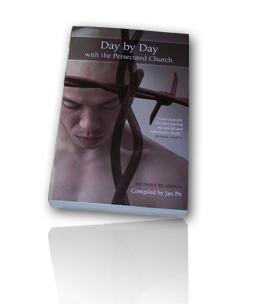 Day by Day with the Persecuted Church
compiled by Jan Pit with a forward by Brother Andrew (paperback, revised 2000)
Compelling wisdom from the pen of actual believers living amidst persecution, you'll be connected to the suffering, courage, and depth of life that exists in the harshest places in the world. Each of these 365 thought-provoking devotions will deepen your understanding of Christian persecution and provoke you to pray for our brothers and sisters with a new found depth.