from Day by Day with the Persecuted Church

Again I tell you, that if two of you on earth agree about anything you ask for, it will be done for you by my father in heaven. (Matthew 18:19)
Pastor Zhu's wife
Praying according to God's will and in agreement with another Christian has great power. Both, however, are very difficult.
First, we need to pray according to God's will. How do I know God's will? We can have long discussions about this. So long that in the end we only discuss, talk and argue instead of praying. Second, to find another Christian who will agree is also difficult. As individuals, we like to have our own opinions and views. The basis for any prayer according to His will is - to His glory. Does my request glorify God?
I experienced this spiritual battle in a very realistic way. I had been separated from my daughter for three years. We both encountered great problems, persecutions and hardships. One day we agreed to claim the promise of Matthew 18:19. We prayed very earnestly - believing it would bring glory to God to bring us together again. All the circumstances were against us. God would have to perform a miracle to unite us again. The people around us would know and acknowledge that only God could bring it about. For Him nothing is impossible.
Moreover, God delights to give good gifts to his children.
What seemed impossible became possible - we were united. "The king's heart is in the hand of the Lord" (Proverbs 21:1). He directed the authorities to grant us permission to be united. Let us have faith in a great God.
"For no matter how many promises God has made, they are "yes" in Christ. And so through Him the "amen" is spoken by us to the glory of God" (2 Corinthians 1:20).
Sister Zhu from China is a pillar of God's house in this vast land. Due to security reasons, we cannot introduce her further to you, but her testimony speaks for itself.
Copyright [C] 1995 Open Doors International. Used by permission.
Click here to sign up for a free monthly newsletter from Open Doors about persecuted Christians.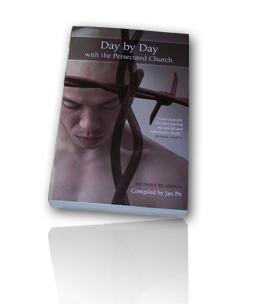 Day by Day with the Persecuted Church
compiled by Jan Pit with a forward by Brother Andrew (paperback, revised 2000)
Compelling wisdom from the pen of actual believers living amidst persecution, you'll be connected to the suffering, courage, and depth of life that exists in the harshest places in the world. Each of these 365 thought-provoking devotions will deepen your understanding of Christian persecution and provoke you to pray for our brothers and sisters with a new found depth.