from Day by Day with the Persecuted Church

The Lord will fulfill his purpose for me; your love, O Lord, endures for ever ... do not abandon the works of your hands. (Psalm 138:8)
Andrés Noriega
I was at the point of entering university to study Philosophy. It was like a dream come true. I would finally be able to escape from my parents and their situation. My father was a pastor. I had lived with shortages and limitations. The last thing I ever wanted was to become a pastor. Because to me it stood for poverty, humiliation, danger and suffering. I had seen it and had lived through it. This was the time to get away from it. Go to university, learn, get a good job, become somebody. What I had forgotten ... God had not.
My mother could not have children for various reasons. Then, through a miracle, she got pregnant. She was overwhelmed with joy. When I was still in my mother's womb, promises came from different sources that the fruit of her womb was to become a servant of God. But here I was ... entering university. I had forgotten all about the promises to my mother. In fact, instead of following the Lord at all, l lived my own life, the life of the world, with plenty of fun and pleasure. I knew I lived in sin, but I still enjoyed it much more than living the dull life of a Christian.
But just before I entered the university something happened. It was as if a film was played, showing my life story. My whole life passed before me.... and the Lord touched my heart. I saw my stubbornness and His love, my insignificant self and His majesty. I cried and confessed my sins. Everything lost its value; nothing became more important than to receive forgiveness. I renounced all and dedicated my life to His service.
Today I am a pastor, joyful and happy and with this great conviction - The little that a righteous man has is better than the riches of the wicked.
Andrés Noriega, from Cuba, shares about his life with the Lord. Despite the battle, his meditations witness to victory and faith. He writes under a pseudonym.
Copyright [C] 1995 Open Doors International. Used by permission.
Click here to sign up for a free monthly newsletter from Open Doors about persecuted Christians.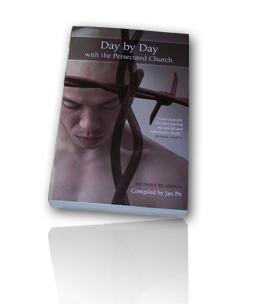 Day by Day with the Persecuted Church
compiled by Jan Pit with a forward by Brother Andrew (paperback, revised 2000)
Compelling wisdom from the pen of actual believers living amidst persecution, you'll be connected to the suffering, courage, and depth of life that exists in the harshest places in the world. Each of these 365 thought-provoking devotions will deepen your understanding of Christian persecution and provoke you to pray for our brothers and sisters with a new found depth.