from Day by Day with the Persecuted Church

But when they arrest you, do not worry about what to say or how to say it.
(Matthew 10:19)
Nicolae Gheorghita
After various trials, I was once asked to go to the secretary of the county, an evil man, a committed Communist. My wife said, "It will be a miracle of God if you come back safe." The 'comrade' party official made me wait for an hour in the hallway for him, after which I was told he wanted to see me now. I prayed (again); "Lord please go in first. I am afraid to go without you."
The official was sitting behind his desk. "I could have sent you to prison for what you have done, but I wanted to see you first," he started. "You were in Cluj and you preached without permission." I realized immediately what he was referring to. I had indeed preached to the students of the university in Cluj. I had encouraged them to remain faithful in the week ahead. I had spoken about courage because they had been threatened with dismissal from the university if they continued to believe in God. I told the party official that it was my duty to preach the Word. He started to threaten me. Strange, the more he threatened me the more God's peace flowed into my heart. I was sitting there, full of peace, rejoicing in the opportunity to be threatened for my faith in Christ.
Suddenly, the official realized that he could not frighten me. "Are you not afraid?" he asked. I just said, "No". Then he added, "Do you have anything else to say?" I said, "Yes"... and I told him my testimony and that God loved him too. I saw him lowering himself behind the desk and he asked me to pray for his soul also. How great Thou art.
Nicolae Gheorghita is from Romania. He became well-known as one of pastors of the largest Baptist Churches in Europe. Despite his status, his messages are characterized by their simplicity and servitude.
Copyright [C] 1995 Open Doors International. Used by permission.
Click here to sign up for a free monthly newsletter from Open Doors about persecuted Christians.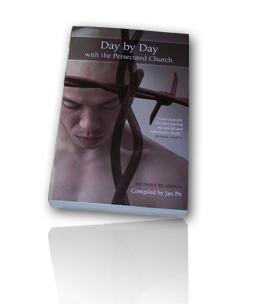 Day by Day with the Persecuted Church
compiled by Jan Pit with a forward by Brother Andrew (paperback, revised 2000)
Compelling wisdom from the pen of actual believers living amidst persecution, you'll be connected to the suffering, courage, and depth of life that exists in the harshest places in the world. Each of these 365 thought-provoking devotions will deepen your understanding of Christian persecution and provoke you to pray for our brothers and sisters with a new found depth.