from Day by Day with the Persecuted Church

So do not fear, for I am with you; do not be dismayed, for I am your God. I will strengthen you and help you; I will uphold you with my righteous right hand.
Antonio Garrido
The events that took place in the revival in my country are an evident act of God's power.
For thirty years the government had taught that there is no God. The Christian faith was ridiculed. But just when the battle seemed to be won by the government, God sent a great revival.
People were so disappointed in Communism that they came to the very churches which the government tried to destroy.
Thousands and thousands of people would gather together in and outside the church to hear the Gospel. They would bring the sick and God performed miracles, again and again. Even atheists came to listen and many of them acknowledged that God is alive and at work. We never need to be dismayed. God is still in control. Despite all persecution and false propaganda the church grew.
Yes, we can trust in God. He says, "I will build my church..." (Matthew 16:18). So we never need to be dismayed whatever the circumstances.
Antonio Garrido, from Cuba, shares about his life with the Lord. Despite the battle, his meditations witness to victory and faith. He writes under a pseudonym.
Copyright [C] 1995 Open Doors International. Used by permission.
Click here to sign up for a free monthly newsletter from Open Doors about persecuted Christians.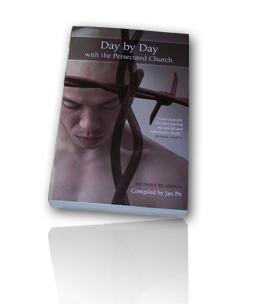 Day by Day with the Persecuted Church
compiled by Jan Pit with a forward by Brother Andrew (paperback, revised 2000)
Compelling wisdom from the pen of actual believers living amidst persecution, you'll be connected to the suffering, courage, and depth of life that exists in the harshest places in the world. Each of these 365 thought-provoking devotions will deepen your understanding of Christian persecution and provoke you to pray for our brothers and sisters with a new found depth.