from Day by Day with the Persecuted Church

Splendor and majesty are before him; strength and glory are in his sanctuary. (Psalm 96:6)
Naji Abi-Hashem
If we had walked through the streets of Beirut, Lebanon in 1985 or Vukovar, Croatia in Europe, in 1994, we would have seen severe destruction and death, experienced deep sorrow and sadness, and would have come in touch with the dark side of human nature. But if we enter the sanctuary of God, we will be greatly moved and impressed by His glorious personal attributes and divine presence.
The very thought of entering into the presence of the Almighty God causes us to feel a sense of awe and reverence, the emotion of delight, and an attitude of trust and faith. The result is often a deliberate act of worship and commitment on our part. We come to realize that our God is still in charge. Thus our spirits will be filled with peace, despite the circumstances. Our bones will be charged with energy and our mouths will testify the mercy of God for a dying world.
Naji Abi-Hashem from Lebanon.
Copyright [C] 1995 Open Doors International. Used by permission.
Click here to sign up for a free monthly newsletter from Open Doors about persecuted Christians.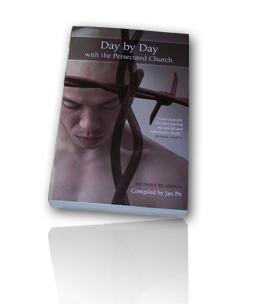 Day by Day with the Persecuted Church
compiled by Jan Pit with a forward by Brother Andrew (paperback, revised 2000)
Compelling wisdom from the pen of actual believers living amidst persecution, you'll be connected to the suffering, courage, and depth of life that exists in the harshest places in the world. Each of these 365 thought-provoking devotions will deepen your understanding of Christian persecution and provoke you to pray for our brothers and sisters with a new found depth.