from Day by Day with the Persecuted Church

Then Jesus told the disciples a parable to show them that they should always pray and not give up ... and will God not bring about justice for his chosen ones, who cry out to him day and night? Will he keep putting them off? I tell you, he will see that they get justice, and quickly. (Luke 18:1, 7, 8)
Abraham
Nothing makes Satan so fearful as a Christian who understands the power of prayer.
Some time ago Brother Andrew wrote a book on prayer, entitled "And God changed His Mind because His people dared to ask." Abraham dared to ask and in response God was willing to change His mind. "For the sake of ten I will not destroy it." (Sodom and Gomorrah) Six times Abraham had prayed for the salvation of the people in those cities. What a pity he stopped at ten. Who knows what might have happened had Abraham gone on?
Ungodly men and women in sinful cities do not realize how much they owe to the presence of God's people in their midst. Godly people are too often unaware of their enormous responsibility to pray for a wicked world. Abraham was aware - and prayed. Let us plead with God for a breakthrough in countries where His presence is not allowed.
Let us also hold on to God when praying for those in our own families who live without Christ. Prayer changes situations - never give up.
Copyright [C] 1995 Open Doors International. Used by permission.
Click here to sign up for a free monthly newsletter from Open Doors about persecuted Christians.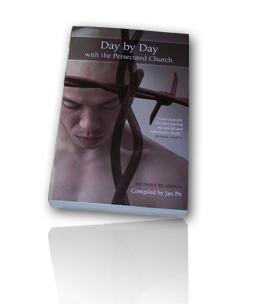 Day by Day with the Persecuted Church
compiled by Jan Pit with a forward by Brother Andrew (paperback, revised 2000)
Compelling wisdom from the pen of actual believers living amidst persecution, you'll be connected to the suffering, courage, and depth of life that exists in the harshest places in the world. Each of these 365 thought-provoking devotions will deepen your understanding of Christian persecution and provoke you to pray for our brothers and sisters with a new found depth.