from Day by Day with the Persecuted Church

Lord, do not hold this sin against them. (Acts 7:60)
Constantin Caraman
I would like to end the list of ordinary people who did extraordinary things with Stephen. After he had proclaimed the Gospel in Jerusalem, he was in serious trouble. Some of the onlookers attacked him and dragged him out, intending to kill him. "Away with him," they shouted, "we don't want to listen to this any longer."
Stephen knew there could be a reaction like this. After all, the disciples had been picked up and punished several times already. Yet, none of them had been stoned and killed. Stephen would be the first martyr.
When they started throwing stones at him, he could have cried, "Lord, help me, they are going too far. Lord, send down a fire from heaven to destroy these people. You don't want me to die, do you?"
While the stones came down and hit him, he knelt down and prayed. What did he pray for? Did he pray for strength to remain faithful? No, he prayed for those who cursed him, "Lord, do not hold this sin against them."
Until his last breath he had compassion on the sinners, and in doing so, he followed Christ's example.
Are we prepared to do this too?
Writer for the month - Constantin Caraman from Romania was in prison three times for his faith.
Copyright [C] 1995 Open Doors International. Used by permission.
Click here to sign up for a free monthly newsletter from Open Doors about persecuted Christians.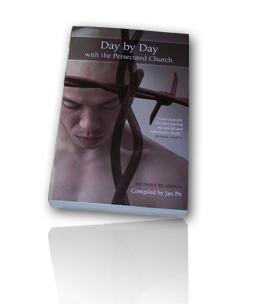 Day by Day with the Persecuted Church
compiled by Jan Pit with a forward by Brother Andrew (paperback, revised 2000)
Compelling wisdom from the pen of actual believers living amidst persecution, you'll be connected to the suffering, courage, and depth of life that exists in the harshest places in the world. Each of these 365 thought-provoking devotions will deepen your understanding of Christian persecution and provoke you to pray for our brothers and sisters with a new found depth.