from Day by Day with the Persecuted Church

On him we have set our hope that he will continue to deliver us, as you help us by your prayers.
(2 Corinthians 1:10)
Jan Pit
From our hotel on the Comoros Islands we had a magnificent view of the Indian Ocean, while behind us there were charming hilltops to be seen. On the slopes we discerned small villages, tucked away behind palm trees and banana plantations. In one of those villages there is a Christian, the only one among thousands of Muslims. Visiting him was impossible, for it would endanger his life. He was so close ... and yet so far away. We prayed for him and pleaded his case with the Lord whom he followed. The Lord knows his whereabouts, his situation and He is acquainted with his loneliness.
We would so much have liked to hold his hands for a moment and to have encouraged him. To have told him that we remembered him. But we could not. It goes without saying that you start praying for someone like that, knowing that your prayer will be experienced by him as God's strength.
In prayer we can bring him before the Throne of God, so that he will know that though he may be lonely, he is not alone. The Lord is with him and we can visit him in spirit and encourage him that way.
That afternoon, I learned from another Christian that although he is having a hard time, he is standing firm. Yes, we ourselves will receive many blessings when we read of God's faithfulness in their lives. We can also encourage them by praying for them. A blessing and a responsibility.
Have you already "visited" someone today?
Copyright [C] 1995 Open Doors International. Used by permission.
Click here to sign up for a free monthly newsletter from Open Doors about persecuted Christians.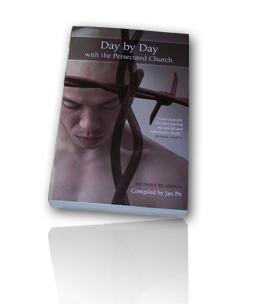 Day by Day with the Persecuted Church
compiled by Jan Pit with a forward by Brother Andrew (paperback, revised 2000)
Compelling wisdom from the pen of actual believers living amidst persecution, you'll be connected to the suffering, courage, and depth of life that exists in the harshest places in the world. Each of these 365 thought-provoking devotions will deepen your understanding of Christian persecution and provoke you to pray for our brothers and sisters with a new found depth.