from Day by Day with the Persecuted Church, 

Though an army besiege me, my heart will not fear; though war break out against me, even then will I be confident.
(Psalms 27:3)
Naji Abi-Hashem
To experience tranquility in the midst of tribulation is indeed a divine gift. One evening, during the long years of troubles in Beirut, the shelling over our part of the city was very heavy. However, I felt an urgency to go out and check on a certain family from our congregation. So I asked a brother, who happened to be in the church building waiting for the shelling round to end, to accompany me.  At first he hesitated and said, "If people see us running on the deserted streets they will think we have lost our senses." But then, we briefly prayed and left. We took with us some bread, fresh water, and candles for the family, some basic needs which were not always available those days.
Bombs and shells were exploding right and left. We walked close to walls and took short cuts when possible. Finally, we arrived. The household was very surprised by our unexpected visit. Although they warmly received us, they looked afraid, frustrated, and very distressed. We visited with them, talked about the Lord, laughed and ate together, and soon forgot about the horror of the war around us. We carefully read Psalm 27 twice and we all prayed. Before we left, their faces looked cheerful, radiant, and relieved. They said they felt as if two angels had visited them during a dark hour.
On our way back, we marveled at the power of God's Word and Spirit. Although the shelling never stopped the whole evening, we learned that the climax of the Christian experience comes after we respond to and obey the Lord's calling in the time of danger and serious challenge.
Naji Abi-Hashem from Lebanon.
Copyright [C] 1995 Open Doors International. Used by permission.
Click here to sign up for a free monthly newsletter from Open Doors about persecuted Christians.
---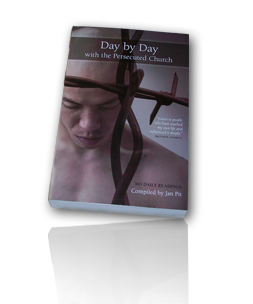 Day by Day with the Persecuted Church
compiled by Jan Pit with a forward by Brother Andrew (paperback, revised 2000)
Compelling wisdom from the pen of actual believers living amidst persecution, you'll be connected to the suffering, courage, and depth of life that exists in the harshest places in the world.  Each of these 365 thought-provoking devotions will deepen your understanding of Christian persecution and provoke you to pray for our brothers and sisters with a new found depth.
 To order your copy of this devotional, click