Out of the Tomb of Shame [Part 2] - Daily Good News with Alan Wright - February 24

Out of the Tomb of Shame [Part 2]
Are you ready for some good news?
Jesus comes into the midst of our lives, speaks peace to our troubled hearts, and then he gives Himself to us. He heals shame.
After Jesus' death, his disciples hid together. They locked the world out, afraid of what might happen to them now that Jesus was gone. But Jesus wasn't dead – he had risen!
Today's Text: "On the evening of that day, the first day of the week, the doors being locked where the disciples were for fear of the Jews, Jesus came and stood among them and said to them, "Peace be with you."" (John 20:19, ESV)
How would you expect Jesus to tell his frightened, huddled disciples the news of His resurrection?
Would he send an earthquake to knock down the walls, stripping them of their safety, so they could practice trusting him? Would he send a messenger to tell them the news and then wait to see if they had enough courage to come looking for him? Would He just send them a riddle and see if they were smart enough to figure out what had happened and where He was?
No. Instead -- Jesus came and stood among them.
That's who Jesus is. He's the one who comes to us while we are still in our sin. Jesus is not afraid to come into your place of shame.
What would you expect Jesus to say to his disciples? "Shame on you! You said you were my friends. Where were you when I needed you?"
Instead, he said, "Peace be with you." And if that were not enough, Jesus showed them his hands and side, assuring them that he understood their shame. He had felt their pain.
What would you expect Jesus to give them?
A formula for right living? A set of principles? Instead, he breathed on them and gave them the Holy Spirit. The gift that he gave them for the healing of shame was not a substance – it was a person. The same is true for us. He give us Himself to lift our shame.
And that's the Gospel!
---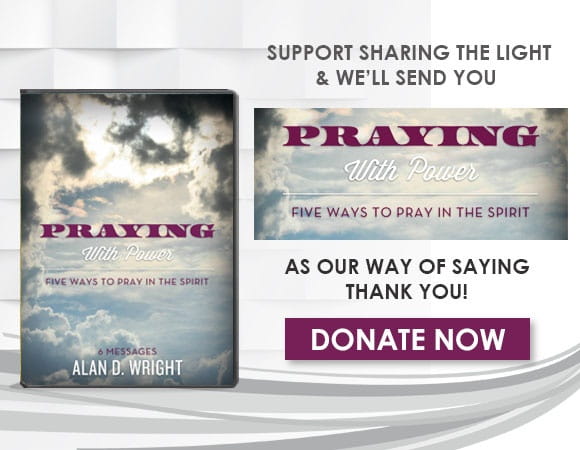 For more information please visit SharingtheLight.org.