A Psalm for the Season of Spiritual Warfare [Part 2] - Daily Good News with Alan Wright - July 6

A Psalm for the Season of Spiritual Warfare [Part 2]
Are you ready for some good news?
In Christ, you are assured of full, final victory.
Today's Text:
The Lord says to my Lord:
"Sit at my right hand,
until I make your enemies your footstool." (Psalm 110:1)
This text is astonishing in its depth and significance (please tune in for the whole broadcast to take in the full impact). It's especially important because Jesus references Psalm 110 to rebut the Pharisees in Matthew 22:
"Now while the Pharisees were gathered together, Jesus asked them a question, saying, "What do you think about the Christ? Whose son is he?" They said to him, "The son of David." He said to them, "How is it then that David, in the Spirit, calls him Lord, saying, " 'The Lord said to my Lord, "Sit at my right hand, until I put your enemies under your feet" '? If then David calls him Lord, how is he his son?" And no one was able to answer him a word, nor from that day did anyone dare to ask him any more questions." (Matthew 22:41–46, ESV)
In ancient Mid-Eastern culture, it was understood that the older is always the more honored. The father always has more honor than the son. God couldn't call the Son of David "Lord" unless He was co-equal with God. The Pharisees were stumped.
The picture of the Messiah in Psalm 110 is both king and priest. It was certainly clear in Jewish law that the priest was not to be king or vice versa. That Jesus is both king and priest is glorious. If Jesus were only a king with a mission to defeat evil, He would destroy us, the sinful creatures. If He were only a priest, He would mediate for our sins but have no power over evil, leaving us miserable sinners with no victory.
But, because Jesus is both priest and king, He is able to defeat evil and forgive our sin at the same time. Thus, the reign of sin and the reign of shame have been defeated by the cross and you are seated with Christ – forgiven and empowered. That's what it means to be victorious in Christ. And that's the Gospel!
---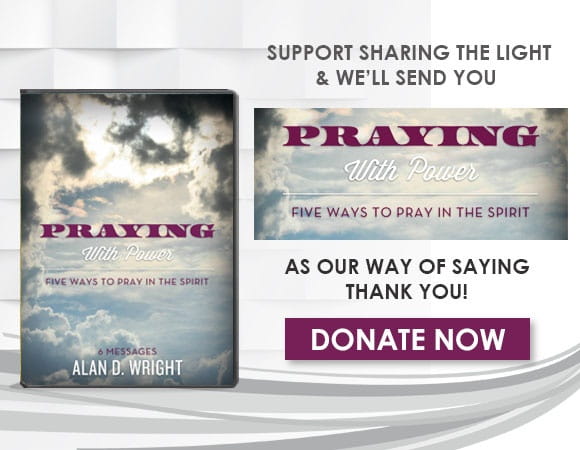 For more information please visit SharingtheLight.org.