Who Wouldn't Everyone Want the Freedom of the Spirit? [Part 2] - Daily Good News with Alan Wright - March 27

Who Wouldn't Everyone Want the Freedom of the Spirit? [Part 2]
Are you ready for some good news?
To be free in the Spirit means (among many other glorious things) to be free to be in the presence of the Father without fear.
Today's Text: "Yes, to this day whenever Moses is read a veil lies over their hearts. But when one turns to the Lord, the veil is removed. Now the Lord is the Spirit, and where the Spirit of the Lord is, there is freedom." (2 Corinthians 3:15-17,)
Today's broadcast continues exploring the magnificent notion of freedom in the Spirit. When my niece, Courtney, was little, she was playing hide and seek with a babysitter. Courtney found a really good hiding place and decided she wasn't going to come out. Finally, the babysitter became worried enough to call a neighbor for help. The lady from next-door came over and called out into the house: "Courtney, this is Lisa's mom. I know you are hiding somewhere. You are not going to get into trouble, but I need you to come out now." Out came little Courtney. I imagine that the longer she hid, the harder it was to quit hiding.
Have you ever felt like that before? Have you every thought, "If I never started hiding in the first place, then I wouldn't have to hide, but since I started, I am going to have to keep this going for a long time"?
The need to hide is a form of spiritual bondage. When the Holy Spirit comes into your life and assures you that there is no condemnation in Christ, it become safe to quit hiding. The more that you are assured of the sufficiency of Christ's work on the cross, the more you become confident that you can live in the open with God.
I used to play hide and seek with my son Bennett. It was amusing because the little guy always hid in the same spot behind the couch. Though I always knew where he was, I would call out, "W-h-e-r-e's Bennett?" Sometime there would be a little snickering noise from behind the couch, but usually he'd keep relatively quiet. But one day, I called out "Where's Bennett? Does anybody know where Bennett is?"
His little toddler voice squeaked back: "Nobody."
Hiding is not the fun part of hide and seek. The fun part is being found.
"The Son of Man came not to condemn, but to save" (John 3:17). The work of the Holy Spirit is to assure you of the saving work of Jesus so you could be free with an unveiled face to behold the glory of God. You're free to let God find you. And that's the Gospel!
---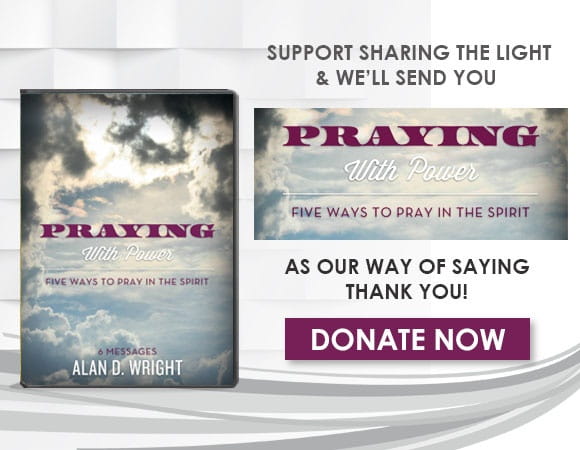 For more information please visit SharingtheLight.org.