There Are No Perfect Relationships
By Tom Holladay
Today's devotional is by Tom Holladay, teaching pastor at Saddleback Church.
"Be patient with each other, making allowance for each other's faults because of your love" (Ephesians 4:2 NLT).
If there is any high and low that is greater than any other, it is the high and low of relationships. You can experience the high of joy and the low of disappointment sometimes within minutes of each other.
When you find yourself struggling with each other's faults, go to God with your disappointments.
Disappointments come into relationships because none of us are perfect. We have an idealized view of love, relationships, and marriage, and when reality doesn't match up to this picture, it leaves us disappointed.
We will never have the perfect wedding or the perfect marriage or the perfect family because we are imperfect, sinful people. The idea that two imperfect, sinful people can come together and have a perfect relationship is unrealistic. You need to adjust your expectations.
One of the reasons we are often disappointed in our relationships is because we're asking another human being to meet needs that only God can meet. Another human being can't promise you that they will always be with you or that they won't fail you. Only God can meet those promises. He tells us in his Word, "I will never leave you nor forsake you" (Joshua 1:5 NIV).
When we get to heaven, there will be no more disappointment or pain. Until then, you can choose to keep loving. As 1 Corinthians 13:7 says, "Love never gives up, never loses faith, is always hopeful, and endures through every circumstance" (NLT).
PLAY today's audio teaching from Pastor Rick >>
For more Daily Hope with Rick Warren, please visit pastorrick.com!
---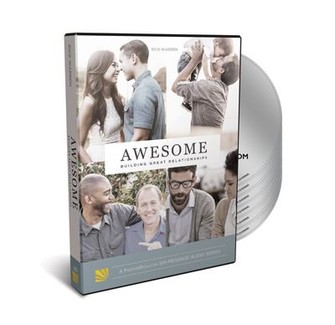 Awesome Relationships Complete Audio Series
Discover how to build life-giving relationships
Pastor Rick Warren shares how you can build life-giving relationships with your spouse, your family members, your friends, and your heavenly Father in his 6-message complete audio series, Awesome Relationships.
Listen to Pastor Rick share how to seek out genuine connections, and learn how to selflessly love others and receive the promises God has in store for you.
You'll get all 6 of his inspiring messages, including:
• Fighting for an Awesome Marriage
• Fighting for an Awesome Family
• Making Friends for Eternity
• What Destroys Relationships and What Builds Them
• Finding the Love of Your Life
• Becoming Best Friends with God
Request your copy of the complete audio series of Awesome Relationships on CD or MP3 when you give a gift below to reach more people with the hope of Christ through Daily Hope.
God wants you to learn how to love, and you can do that by sharing life with others. Find out how to share your life to the fullest by requesting the Awesome Relationships complete audio series as you give today.
*The USA IRS code permits you to deduct the amount of your financial gift to Daily Hope that exceeds the fair market value of materials you received from Daily Hope.

This devotional © 2018 by Rick Warren. All rights reserved. Used by permission.
You can listen to Rick Warren on OnePlace.com.