When asked how their marriage lasted 65 years, a woman replied, "We were born in a time when if something was broken we would fix it, not throw it away." – Unknown
When I'm talking with a struggling couple, I like to paint a vision for them. I'll talk about a year – many years – in the future when they're sitting in rocking chairs on a wraparound porch. It's summer. They're so old, all the kids are grilling and organizing the meal. He's got his sweet tea, and she has her lemonade. They look over at each other as the grandkids run circles through the yard, and he says, "You know, we've had some moments; but man, it was worth it."
Why do I do paint this vision?
Because love always hopes. (1 Corinthians 13:7)
There's a Holy Spirit optimism to true love. Painting a vision enables us to have hope so we can endure the struggle.
Why endure? Because love always perseveres (1 Corinthians 13:7). To persevere means to remain, to sustain, to bear up under the struggle.
God knows true love is experienced in the context of an enduring relationship – one that perseveres. So when two people are resolutely committed to remaining together, love breaks out.
Hear me out. I know some of you are together but you're living separate lives under one roof. It doesn't have to be like that. Start praying and find help.
Some of you are divorced and remarried. When you hear Jesus wants you to stick it out, you feel guilty about your first marriage. Take that turmoil to God, but then apply this principle to your current marriage. Make this marriage the one that lasts.
Some of you are divorced and neither one of you has remarried. I ask you to pray about reconciliation. I know it was a mess back there, but maybe, just maybe, this is what God has in mind.
Whatever the circumstances, find a Spirit-led vision for your marriage and stick it out. God, I ask for a God-sized vision for my relationship with my spouse. May Your Spirit present it to me so clearly that I can smell it and see it, and it will sustain me in the times I wish to walk away. To hope is grace, and I am desperate for it. Amen.
Listen to Pete, Jill & Stuart Briscoe on the Telling the Truth broadcast at OnePlace.com
SPECIAL OFFER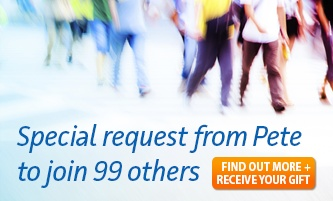 Jill Briscoe's A Little Pot of Oil book and DVD
You know what it's like to be at the end of where your strength can take you. Yet God has given us what we need to fill up when we run low: the incredible gift of Himself! Jill Briscoe wants to help you renew your hope when you're running low. Request her book and DVD,
A Little Pot of Oil
, today!