Prediction is very difficult, especially if it's about the future. – Early 20th century physicist, Niels Bohr
Since the beginning of time, the world has been bombarded with outlandish "prophets" who have predicted even more outlandish events. Yes, we have seen more than our share of false "prophets."
But in the Old Testament, God made a promise to Abraham and it is still coming to fruition each and every day.
"I will make you into a great nation, and I will bless you;; I will make your name great, and you will be a blessing. I will bless those who bless you, and whoever curses you I will curse;; and all peoples on earth will be blessed through you." –Genesis 12:2-­3
This is God's promise – His covenant promise – that through Abraham, God would bless the entire world. And Abraham clung to that promise and God did bless him with Isaac, Jacob, the 12 sons, the patriarchs, and the entire nation of Israel! Out of that nation came a blessing that is literally impacting the entire world: Jesus Christ.
"We tell you the good news: What God promised our ancestors he has fulfilled for us, their children, by raising up Jesus." – Acts 13:32
Man-­made promises get broken all the time, but God-­made promises never fail. They may not come about as we expect them, but all that God promises He will do. That's good news. Where mankind falls short, God's Word is true and His promises are good.
Dear God, I am so blessed to be a part of Your family! Open my heart, so I can truly trust in You in spite of the failed promises of man that I have experienced in my life. Even my loved ones have disappointed me, and I have let others down. Help me to rejoice in the good news that You always deliver. Amen.
Listen to Pete, Jill & Stuart Briscoe on the Telling the Truth broadcast at OnePlace.com
SPECIAL OFFER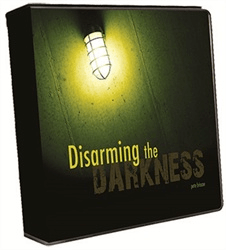 Pete Briscoe's Disarming the Darkness DVD or CD series
Satan loves to use Christians as his punching bag. But if you're a believer, you don't have to fear his attacks and can walk in freedom! Learn more about Satan's defeat and your triumph in Christ in this encouraging 7-message CD or DVD series from Pete Briscoe.