December 12
Celebrating Christmas, Not Just Surviving It
The holiday letter, coming during what was supposed to be a universal happy time, was a cry of pain. "I want to celebrate Christmas, not just survive it. Help!"
Could that voice have been yours? What is it that turns a time of magic and beauty and love into an ordeal to be dreaded? Without a doubt, it's the tyranny of the "Hafta." We allow other people to pile up expectations on us, and we make it worse, because of our own feelings of insecurity, by imposing even more pressure on ourselves.
If we don't get control of our month, Christmas can become a performance for which we feel judged—judged by our kids, our mothers-in-law, our coworkers, and worst of all, our own weak self-confidence. The only way out is to refocus each day on the fact that Christmas is a birthday celebration. Whose? "When they had seen him, they spread the word concerning what had been told them about this child, and all who heard it were amazed at what the shepherds said to them. But Mary treasured up all these things and pondered them in her heart" (Luke 2:17-19).
Before you agree to the demands of others this month, do what those early believers did: Marvel at the message. Treasure God's gift. Ponder the love and commitment that Christ has for you.
---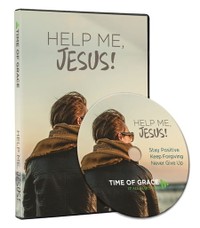 Help Meet the Challenge Grant!
A group of generous friends has stepped forward with a $350,000 Challenge Grant. This means any gift you give to Time of Grace this month will be worth twice as much to share the timeless truths of God's Word with others!
This three-part DVD focuses on looking to God when you're struggling with issues like forgiving others and persevering through trials. And the prayer book helps you put your struggles and concerns into words—and turn them into prayers to God.
The Help Me, Jesus! set is our thank-you for your donation to help us continue telling others of the forgiveness they have through Jesus. Request your copy today!
For more from Time of Grace visit them at TimeofGrace.org or visit their OnePlace.com and LightSource.com pages!