Thursday, December 2, 2010
Lay the Right Foundation
"Therefore whoever hears these sayings of Mine, and does them, I will liken him to a wise man who built his house on the rock: and the rain descended, the floods came, and the winds blew and beat on that house; and it did not fall, for it was founded on the rock."
—Matthew 7:24-25
In 1173, the foundation was laid for one of Italy's most famous structures: a tower that would stand next to a cathedral. But during construction, they discovered the soil was softer than they had previously thought, and the tower began to sink. Today, the top of the tower is nearly 13 feet off center. People come from around the world to see the Leaning Tower of Pisa, and scientists travel to Pisa yearly to measure its slow descent. They calculate that with current movement, it will one day collapse.
When you are building anything, there is nothing more important time than laying the right foundation first. If you don't get that right, nothing else will matter. Of course, the fun part is deciding what color paint you will use and how you will decorate. But is there a good foundation? If you don't get that right, everything else is a problem.
A real Christian will build his or her life on the right foundation. Jesus illustrates this with a story of two men who built houses.

Apparently, they both had the same desire. They wanted a house they could live in with their families. They thought about the same thing. They were interested in the same thing. It would appear the houses were next to each other. Outwardly, they both looked great. But one was built on the right foundation, and the other was not.
Sometimes a faulty foundation in life becomes evident right away. But other times, it is more subtle. The breakdown happens over a period of time. A life that is leaning just a little today will one day experience a complete collapse, because it hasn't been built on the right foundation.
If you are building your life on the right foundation, it will stand the test of time.

Copyright © 2010 by Harvest Ministries. All rights reserved.
Scripture taken from the New King James Version. Copyright © 1982 by Thomas Nelson, Inc. Used by permission. All rights reserved.
For more relevant and biblical teaching from Pastor Greg Laurie, go to www.harvest.org
and
Listen to Greg Laurie's daily broadcast on OnePlace.com.
Watch Greg Laurie's weekly television broadcast on LightSource.com.
SPECIAL OFFER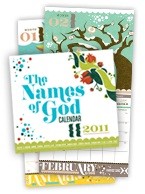 Use this gift to keep teaching and proclaiming the gospel.
Presented with fresh and encouraging illustrations each month, our hope is that you will not only learn the names of God contained in the Bible… but that each name's meaning would give you the comfort, the security, and the peace to know that God is with us and is involved in our world.
You can have your own copy of The Names of God 2011 Calendar in appreciation for your gift to Harvest Ministries this month.