Monday, January 31, 2011
Trying to Keep Up
"Come to Me, all you who labor and are heavy laden, and I will give you rest. Take My yoke upon you and learn from Me, for I am gentle and lowly in heart, and you will find rest for your souls. For My yoke is easy and My burden is light." —Matthew 11:28-30
Some years ago, a Tacoma, Washington newspaper ran a story about Tattoo, an eight-month-old basset hound who went for an unplanned run one day. When his owner accidentally shut the dog's leash in the car door and took off for a drive, Tattoo had no choice but to try and keep up. Fortunately, a motorcycle officer saw the passing vehicle with something being dragged behind it. But before Tattoo's owner finally stopped and the dog was rescued, the vehicle had reached speeds of up to 25 miles per hour. Although Tattoo was dragged some of the way, he was not injured. Imagine poor Tattoo with his little basset hound legs, trying to keep up.
Have you ever felt that way—as though you were being dragged through life? Like Tattoo, you are picking them up and putting them down as fast as you can. There is so much pressure to do so many things. Here is what Jesus says to anyone who is stressed out, anyone who is under pressure, anyone who is carrying a burden of any kind:
"Come to Me, all you who labor and are heavy laden, and I will give you rest. Take My yoke upon you and learn from Me, for I am gentle and lowly in heart, and you will find rest for your souls. For My yoke is easy and My burden is light." (Matthew 11:28-30)
These are words for a weary person. In the original language, they carry the idea of someone who not only is at the point of utter exhaustion, but loaded down with weight.
Is that a description of you today? Maybe you are struggling with the burden of physical pain, or the burden of problems in your family, or the burden of grief. Jesus says, "Come to Me."
Copyright © 2011 by Harvest Ministries. All rights reserved.
Scripture taken from the New King James Version. Copyright © 1982 by Thomas Nelson, Inc. Used by permission. All rights reserved.
For more relevant and biblical teaching from Pastor Greg Laurie, go to www.harvest.org
and
Listen to Greg Laurie's daily broadcast on OnePlace.com.
Watch Greg Laurie's weekly television broadcast on LightSource.com.
SPECIAL OFFER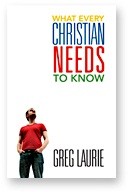 "Ladies and Gentlemen, This is the Bible!"
There is not a better way to refresh your Christian walk than to get back to basics—to spend some time focused on the things that every Christian needs to know. Rediscover the importance of the Bible, the effectiveness of prayer, and the call to share the Good News in this brand new book by Pastor Greg Laurie.
You can have your own copy of What Every Christian Needs to Know in appreciation for your gift to Harvest Ministries this month.