Friday, November 26, 2010
Be Narrow-Minded
"Enter by the narrow gate; for wide is the gate and broad is the way that leads to destruction, and there are many who go in by it. Because narrow is the gate and difficult is the way which leads to life, and there are few who find it."—Matthew 7:13-14
If you are worried about fitting in and being cool and being culturally acceptable, you will have a hard time being a follower of Christ, because it means taking a narrow road. Jesus said, "Enter by the narrow gate; for wide is the gate and broad is the way that leads to destruction, and there are many who go in by it. Because narrow is the gate and difficult is the way which leads to life, and there are few who find it" (Matthew 7:13-14).
There are two gates and two ways we can take in life: the narrow or the broad. And when we read, "Narrow is the gate and difficult is the way which leads to life," it means we are to be—in a strict sense—narrow-minded.
What does it mean to be narrow-minded? It does not mean that we are self-righteous, arrogant, know-it-alls. We should have humility as we share the truth of God with others. But we are to recognize there is a specific road we must walk on to reach a particular destination. It is as simple as that.
Yet when it comes to the most important issues of life, like where we will spend eternity, people will say things along the lines of, "Well, I believe that all roads lead to God as long as a person is sincere." But Jesus said, "Narrow is the gate and difficult is the way which leads to life . . . " (Matthew 7:14).
If you have believed in the Lord Jesus Christ, then you can know with certainty you will be welcomed into heaven. But if you have taken the broad road, the popular road, the ultra-cool road, it will lead to destruction. And it will be too late on that final day.
Copyright © 2010 by Harvest Ministries. All rights reserved.
Scripture taken from the New King James Version. Copyright © 1982 by Thomas Nelson, Inc. Used by permission. All rights reserved.
For more relevant and biblical teaching from Pastor Greg Laurie, go to www.harvest.org
and
Listen to Greg Laurie's daily broadcast on OnePlace.com.
Watch Greg Laurie's weekly television broadcast on LightSource.com.
SPECIAL OFFER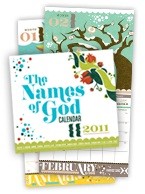 Use this gift to keep teaching and proclaiming the gospel.
Presented with fresh and encouraging illustrations each month, our hope is that you will not only learn the names of God contained in the Bible… but that each name's meaning would give you the comfort, the security, and the peace to know that God is with us and is involved in our world.
You can have your own copy of The Names of God 2011 Calendar in appreciation for your gift to Harvest Ministries this month.