Tuesday, November 30, 2010
Posers
"Not everyone who says to Me, 'Lord, Lord,' shall enter the kingdom of heaven, but he who does the will of My Father in heaven."
—Matthew 7:21
Did you know it is possible to pray, be baptized, keep the Ten Commandments, go to church, and not necessarily be a Christian? A Christian should do those things, but doing them in and of themselves does not mean you are a Christian.
Jesus said, "Not everyone who says to Me, 'Lord, Lord,' shall enter the kingdom of heaven, but he who does the will of My Father in heaven" (Matthew 7:21).
There are posers in the church. They sit next to us. They sing the same songs. They pray the same prayers. They know the Christian lingo. They come off like they are Christians, but they really are not.
Whenever something good comes along, you can be certain there will be imitations. And the devil is an imitator. Jesus told a story known as the Parable of the Wheat and the Tares about a farmer who planted a crop of wheat. During the night, his enemy came along and planted tares, or weeds, among the wheat. But it was not until the plants broke ground that it became apparent there were weeds among the wheat. Worse yet, the weeds actually uprooted the wheat.

Jesus said that is how it will be leading up to the time of His return. There will be the genuine next to the imitation. There will be the real next to the fake. A fake Christian is not a struggling Christian, because every Christian struggles. Every Christian has times when they fall short. A fake Christian is a poser, a pretender. It is someone who is putting on a performance. They conduct themselves one way sitting in church, but another way altogether in their day-to-day living.
If you are a real Christian, it will be demonstrated in the way that you live.

Copyright © 2010 by Harvest Ministries. All rights reserved.
Scripture taken from the New King James Version. Copyright © 1982 by Thomas Nelson, Inc. Used by permission. All rights reserved.
For more relevant and biblical teaching from Pastor Greg Laurie, go to www.harvest.org
and
Listen to Greg Laurie's daily broadcast on OnePlace.com.
Watch Greg Laurie's weekly television broadcast on LightSource.com.
SPECIAL OFFER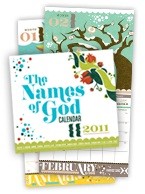 Use this gift to keep teaching and proclaiming the gospel.
Presented with fresh and encouraging illustrations each month, our hope is that you will not only learn the names of God contained in the Bible… but that each name's meaning would give you the comfort, the security, and the peace to know that God is with us and is involved in our world.
You can have your own copy of The Names of God 2011 Calendar in appreciation for your gift to Harvest Ministries this month.