Thursday, September 16, 2010
Kept in His Ways
For He shall give His angels charge over you, to keep you in all your ways.
—Psalm 91:11
The angels of God are nearer than you may think. They are all around us all the time, taking care of us and ministering to us, even when we are not aware of their presence. That is fine with them, because essentially they are God's secret agents, doing His bidding and the work He has called them to do. Many times, they have intervened in our lives and we didn't even know they were doing so.
According Psalm 91 and other passages of Scripture, angels are actively involved in the life of the Christian. Hebrews 1:14 says that they are ministering spirits, sent forth to minister to those who will inherit salvation. Hebrews 13:2 tells us not to be forgetful to entertain strangers, for in doing so, some have entertained angels without even knowing it. There are so many stories in the Bible of angels who delivered the people of God, such as Daniel in the lion's den and Peter in prison.
But as wonderful as the promise of angelic involvement in our lives is, we must first recognize what the conditions are for this promise to be activated in our lives: "For He shall give His angels charge over you, to keep you in all your ways" (Psalm 91:11). Recognize the fact that the phrase "to keep you in all your ways" is not referring to whatever path you choose, but to God's ways.
There is a difference between trusting the Lord and testing Him by taking unnecessary chances with your life or even endangering your spiritual safety by doing stupid things and expecting God to bail you out. God will keep you in all your ways—but your ways must be His ways.
Copyright 2010 Harvest Ministries. All rights reserved.
Unless otherwise indicated, Scripture taken from the New King James Version. Copyright © 1982 by Thomas Nelson, Inc. Used by permission. All rights reserved. Bible text from the New King James Version is not to be reproduced in copies or otherwise by any means except as permitted in writing by Thomas Nelson, Inc., Attn: Bible Rights and Permissions, P.O. Box 141000, Nashville, TN 37214-1000
For more relevant and biblical teaching from Pastor Greg Laurie, go to www.harvest.org
and
Listen to Greg Laurie's daily broadcast on OnePlace.com.
Watch Greg Laurie's weekly television broadcast on LightSource.com.
SPECIAL OFFER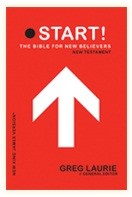 The new Start! Bible . . . like having Greg studying with you.
In this new study Bible, I sought to have the reader feel as though I am right here with them as they work their way through the New Testament …and together we are going through the basics of the Christian life. I wanted to give them a sense that I am alongside them trying to anticipate their questions and providing clear answers. That is what the Start! Bible is all about. --Greg Laurie

The Start! Bible has been created to help you to understand what it means to be a Christian and to apply the Word of God to your life in an effective manner.
You can have your own copy of Greg Laurie's Start! Bible in appreciation for your gift to Harvest Ministries this month.