Ending Online Inappropriate Emotional Relationships - In His Grip - Week of June 15, 2015
Ending Online Inappropriate Emotional Relationships
I've asked my wife, Sharon, to share some of her thoughts with you. I know you will enjoy getting to know her. For more of her writing, check out www.treasuresofencouragement.org.
Imagine that as you turn to leave your friend's bedroom after putting your coat on her bed, you notice a beautiful pin on her dresser. "Aha!" you think. "That's exactly what I've been looking for to go with my new outfit for Saturday's party. I'll just borrow it and then return it later. She has so much jewelry, she won't miss it." You slip the pin into your pocket but never ask for your friend's permission to wear it. The pin completes your outfit and you procrastinate giving it back because you enjoy the compliments you receive while wearing it. Months later you run into your friend at a party. Your smile freezes when she exclaims, "Where did you get that pin? My husband gave me one just like it but told me it was unique, that no one else has one like it but yours is an exact match... I've been so upset because I can't find it. He's really disappointed, too."
Slowly your friend realizes that the pin you're wearing is hers. You hand it back and know by the look in her eyes that your friendship is probably over. Instead of admitting your sin and apologizing, you rationalize away your guilt and conclude that she's selfish. You think, "It wasn't like I was going to keep it - she has so much. What's the big deal!"
Of course, this scenario is silly. Yet, how many women meet appropriate emotional needs inappropriately by "borrowing" another woman's husband? And how many rationalize their behavior by saying, "I'm not trying to have an affair. Her husband just understands me so much better than mine. I'm not trying to steal him from her. She has so much......what's the big deal?"
Relational boundary lines have grown fuzzier as the "mind and heart" of our culture has minimized integrity, faithfulness, and respect for marriage. If our view of marriage is fuzzy, then it's easier to rationalize "borrowing" emotional intimacy from a man who was not designed by God to meet our emotional needs.
As long as there's no physical intimacy, what's the danger of such relationships with men married to another woman? When a woman looks to anything outside of her marriage to meet needs that are to be met by God or her husband, then the one designed to meet those needs (God or her husband if she is married) gets squeezed out of the picture. There's no urgency to pursue intimacy with her husband or her God if another is filling the unmet desires.
How do you know if you have crossed a line? Review the questions in my blog post, Inbox, Outbox, IM Emotional Adultery. Consider also how willing you would be to give up that relationship if your husband or the man's wife expressed discomfort. If you have concluded you are or are in danger of sliding into an inappropriate online relationship, your actions need to follow your mind. Take these hard steps:
1. Admit your motives are impure and ask God's forgiveness.
2. Confess your sin to a trusted friend who now has permission to hold you accountable for ending the relationship (Titus 2:3-5)
3. Prayerfully consider confessing to your husband with the goal of committing to the hard work of building a strong marriage.
4. Immediately end your online relationship by blocking email and social media contact from your online friend.
5. If necessary, change your email address. It's worth the trouble of sending out a new one to your friends and family. Remove all reminders of him from your desk, computer, your life.
6. Put on a renewed commitment and behavior that reflect your desire for your husband if married (Philippians 4:8 – 9).
7. Wash your mind with God's truth about marriage (Ephesians 5:18 – 33)
8. Put your emotional energy into building safe, healthy, godly relationships.
May you experience God's sweet presence as you give to others the treasures of His encouragement.
In His grip,
Sharon W. Betters
Digging Deeper: Titus 2:3-5; Ephesians 5:18 - 33; Philippians 4:8- 9
SPECIAL OFFER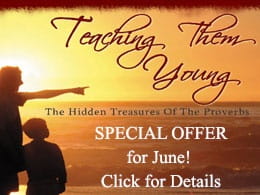 Teaching Them Young: The Hidden Treasures of the Proverbs
Adapted from the popular sermon series "Teaching Them Young," Dr. Chuck Betters' book, Teaching Them Young: The Hidden Treasures of the Proverbs examines critical principles on raising Godly children, taken directly from the wisdom of the Old Testament Proverbs. Filled with practical advice and Biblical stories that illustrate key concepts, Teaching Them Young is a resourceful yet hard-hitting look at the issues that all Christian parents must examine in their own hearts before passing a Godly legacy on to their children.
For an additional $5.00 (50% off the retail price), you will receive the companion personal study guide. USE CODE: TTYBONUS Becky will set up
For more information:http://markinc.org/ministries/teaching-them-young/
https://www.oneplace.com/ministries/in-his-grip/