April 14
God's Promises to the Generous 
2 Corinthians 9:6-11
The principle of sowing and reaping is a universal truth ordained by God that applies not only in agriculture, but also in the area of giving. Despite the fact that the Lord promises an abundant harvest for those who give generously, many Christians still struggle with releasing their grip on money.
Some fear that they won't have enough if they give. Others, pulled by a strong desire for worldly goods, are unwilling to sacrifice pleasures and comforts. Those who succumb to their fears or greed will miss out on the great harvest God wants to give them.
In the midst of a chaotic economy and uncertain times, we can find our security in the Lord. His ways are often the opposite of our natural tendencies. The world says that to have enough, we must acquire more. God says that in giving generously, we will have an abundance of both provision for our needs (bread) and resources to continue our generosity (seed).
Beyond this, the Lord also promises that the harvest of our righteousness will increase, and we will be "enriched in everything for all liberality" (v. 11). God's riches encompass so much more than earthly wealth. Generosity produces godly character, which is valuable now and in eternity.
Although we've been given the promise of a bountiful harvest, it will be realized only by those who sow abundantly. In following God's plan for giving, you can be free of worry because the One who guarantees you a harvest is also the omnipotent Lord who is able to richly produce it.
Extra column: On Money
"Money reveals where our interests lie; it can direct our attitudes; it ever exposes us to the danger of worshiping it; and it represents value. Money not only talks; it screams." 
—Leslie B. Flynn
"There is nothing wrong with people possessing riches. The wrong comes when riches possess people." 
—Billy Graham
"One of the dangers of having a lot of money is that you may be quite satisfied with the kinds of happiness money can give and so fail to realise your need for God. If everything seems to come simply by signing checks, you may forget that you are at every moment totally dependent on God." 
—C. S. Lewis
"A man's treatment of money is the most decisive test of his character—how he makes it and how he spends it." 
—James Moffatt
"Nothing I am sure has such a tendency to quench the fire of religion as the possession of money." 
—J. C. Ryle
"Each of us will eventually give away all our earthly possessions. How we choose to do so, however, is a reflection of our commitment to the kingdom of God." 
—Charles F. Stanley
"The fellow that has no money is poor. The  fellow that has nothing but money is poorer still." 
—Billy Sunday
"When I have any money, I get rid of it as quickly as possible, lest it find a way into my heart." 
—John Wesley
For more biblical teaching and resources from Dr. Charles Stanley, please visit www.intouch.org.
Click here to watch Dr. Charles Stanley & In Touch Ministries Video Online
and
click here to listen to Dr. Stanley at OnePlace.com.
FEATURED RESOURCE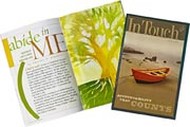 In Touch Magazine
Stories that Inspire, Teaching that Renews
If you like Dr. Charles Stanley's radio program, TV broadcast and books, then you'll love his free, award-winning monthly magazine. It's full of informative resources that will touch your heart and invigorate your faith. Every month, In Touch magazine brings readers daily devotionals from Dr. Stanley, in-depth Bible studies, inspiring articles and insightful teaching to help strengthen your family and your relationship with God. Click below to start your free subscription to In Touch magazine. 

Used with permission from In Touch Ministries, Inc. © 2009 All Rights Reserved.