In Touch Daily Devotional
by Dr. Charles Stanley
---
April 4, 2007 – The Message of the Resurrection – Matthew 28:1-10
            The apostles' dreams were shattered. The man they had loved and followed for three years, the one they believed was the Son of God, was dead. But then the two Marys disrupted their hopelessness with incredible news: Christ had risen from the dead, just as He'd promised!  
            As believers, we can certainly imagine the excitement Jesus' disciples must have felt.  For them, the resurrection's message was encouraging. The empty tomb proved that everything Jesus said was true. In Matthew 17:22-23, the Lord told His disciples, "The Son of Man is going to be delivered into the hands of men; and they will kill Him, and He will be raised on the third day." If Jesus could make and live out this claim, then He's clearly sufficient to keep all of His promises.  
            In John 3:17, Christ said He had not come to condemn the world. He came to save all who believed in Him (Mark 16:16; Romans 8:1). Through His death on the cross, Jesus purchased our salvation. The empty tomb is our guarantee that we're eternally secure in Him. Jesus rose from the dead, ascended to Heaven, and is seated at God's right hand. The Father accepted His payment on our behalf.  
            Christ's death bought our freedom from sin and secured us a place with Him in Paradise. In John 14:2, He says, "In My Father's house are many dwelling places ... I go to prepare a place for you." That's a promise to celebrate. 
FEATURED RESOURCE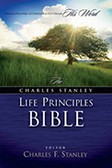 The Life Principles Bible
This Bible combines the wisdom of Scripture with the principles that guide Dr. Stanley's life and empower his ministry. Order your copy.
To see more resources from In Touch Ministries, please visit us at www.intouch.org or go directly to our bookstore at In Touch Ministries.