In Touch Daily Devotional
by Dr. Charles Stanley
---
August 2, 2007 – Godly Time Management – Ephesians 5:14-17
            If you want to know someone's value system, simply look at how he spends his time. A person may claim to be a committed follower of Jesus. But if he's camped out for hours in front of the television every night, then just how committed is he?
            The Lord wants us to be productive for His kingdom. We may tell God we have time for Him, but do our actions indicate that's the case? To make the most of our time, we need to redirect our focus to God. Here are three steps to help you use time effectively for the Lord:
            First, realize that without Christ, you're incapable of anything. You may be existing, but you're not truly living. Ask the heavenly Father to forgive your sins. And trust that the death of His Son Jesus Christ fully paid the penalty you owed.
            The second step for godly time management is to discover God's will for your life. Walk in His guidance daily. Take Paul's advice in Ephesians 5 to "be careful how you walk, not as unwise men but as wise ... understand what the will of the Lord is." Ask yourself, What's my purpose? What am I living for? 
            Third, write out a mission statement for your life. Whether you're 25 or 85, sit down and draft a purpose statement. Ask God for direction as you consider goals for the rest of your time on earth.
            Remember, life is not about how long you live; it's about how you live. It's never too late to change your habits. Place your trust in God. Let Him take care of your time.
FEATURED RESOURCE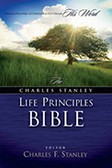 The Life Principles Bible
This Bible combines the wisdom of Scripture with the principles that guide Dr. Stanley's life and empower his ministry. Order your copy.
To see more resources from In Touch Ministries, please visit us at www.intouch.org or go directly to our bookstore at In Touch Ministries.