Pay attention because there will be a test later." Upon completing their schooling, most people are relieved not to have to hear those words anymore. Well, your testing days are not quite over, because God has a final exam for believers. Below is a brief "study guide" outlining what the Lord's faithful can expect at His judgment throne.
Questions. Examining each believer's life from the moment of salvation to death, God looks for answers to three questions:
1. How much truth did the person know?  

2. How many opportunities did he or she have to use that truth? 

3. What did the individual do with those opportunities?  
So you see that we are actually preparing for the final exam right now. On judgment day, no excuses or arguments can stand, nor will anything unrighteous, selfish, or evil be permitted in God's holy presence. All we'll have to show is what we did in His name.
Rewards. Every person who receives Jesus Christ as Savior shares in the gift of eternal life. However, just as each one is judged by his or her own life, so are rewards given individually. Though the Bible is not specific about the nature of heavenly blessings, the promise of receiving them permeates its pages (Matt. 5:12, 6:4; 1 Cor. 3:8; Rev. 2:23).  
Throughout life, our heavenly Father provides each of us with so many big and small ways to honor Him. Take my advice: Do not waste a single moment of preparation time! On the appointed day, you will want to stand before Him, certain that you used your opportunities to the fullest.
On Prophecy
Then the Lord said to [Moses], " . . . I will raise up a prophet like you from among their fellow Israelites. I will put my words in his mouth, and he will tell the people everything I command him. I will personally deal with anyone who will not listen to the messages the prophet proclaims on my behalf. But any prophet who falsely claims to speak in my name or who speaks in the name of another god must die. But you may wonder, 'How will we know whether or not a prophecy is from the Lord?' If the prophet speaks in the Lord's name but his prediction does not happen or come true, you will know that the Lord did not give that message. That prophet has spoken without my authority and need not be feared."
—Deuteronomy 17:18-22 (nlt)
"And He said to them, 'O foolish men and slow of heart to believe in all that the prophets have spoken! . . .' Then beginning with Moses and with all the prophets, He explained to them the things concerning Himself in all the Scriptures."
—Luke 24:25-27
"God, after He spoke long ago to the fathers in the prophets in many portions and in many ways, in these last days has spoken to us in His Son, whom He appointed heir of all things, through whom also He made the world." 
—Hebrews 1:1-2
"But know this first of all, that no prophecy of Scripture is a matter of one's own interpretation, for no prophecy was ever made by an act of human will, but men moved by the Holy Spirit spoke from God." 
—2 Peter 1:20-21
For more biblical teaching and resources from Dr. Charles Stanley, please visit www.intouch.org
and
click here to listen to Dr. Stanley at OnePlace.com.
FEATURED RESOURCE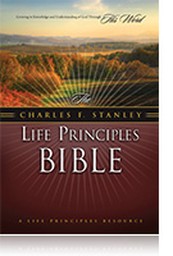 The NASB Life Principles Bible
You can now read the Scriptures in Dr. Stanley's favorite teaching translation -- the New American Standard -- while learning the 30 Life Principles that have guided him for more than 50 years. The new NASB Life Principles Bible will enhance your personal study time through explanation of key passages, plus helpful resources like "Answers to Life's Questions," concordance, maps, and much more. Available in leather and hardcover. 

Used with permission from In Touch Ministries, Inc. © 2009 All Rights Reserved.