Aug. 26, 2009
Travel Companions: Faith and Obedience
1 Kings 18:1-15
Faith and obedience are travel companions heading to the same "destination"—namely, to please and glorify the Lord. You cannot have one without the other. They grow simultaneously as they are practiced, but will wither if neglected.
Elijah was a man with both of these qualities. He believed God and consistently responded in obedience. When the Lord said to show himself to King Ahab, he didn't permit fear to stop him. He had learned through experience that the Father was faithful and trustworthy.
Fear short-circuits faith when we begin to doubt that God's way is really best. If we allow worry to gain a foothold in our minds, we'll respond by refusing to do what the Lord says, which is disobedience. The result will be a change in our "travel plans"—by rejecting the way of faith and obedience, we're actually choosing the path of unbelief and sin.
Satan loves our fear and disobedience because they hinder the journey that God has designed for us. We can't believe the Lord for great things in one area of our life if we are allowing sin in another. Self-examination is essential in the walk of faith. Where have you compromised by allowing sin a foothold? Are you resisting anything that God says in His Word?
Great faith begins with small steps. When you choose to follow God's Word, an ever-increasing cycle of faith and obedience will begin. Don't let fear or sin rob you of the great adventure He's planned for your life. Who has a better track record for choosing the right path—you or God? Believe Him!
For more biblical teaching and resources from Dr. Charles Stanley, please visit www.intouch.org
and
click here to listen to Dr. Stanley at OnePlace.com.
FEATURED RESOURCE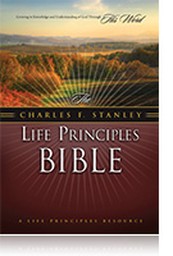 The NASB Life Principles Bible
You can now read the Scriptures in Dr. Stanley's favorite teaching translation -- the New American Standard -- while learning the 30 Life Principles that have guided him for more than 50 years. The new NASB Life Principles Bible will enhance your personal study time through explanation of key passages, plus helpful resources like "Answers to Life's Questions," concordance, maps, and much more. Available in leather and hardcover.

Used with permission from In Touch Ministries, Inc. © 2009 All Rights Reserved.