In Touch Daily Devotional 
by Dr. Charles Stanley
---
December 10, 2006
How God Gets Our Attention
God uses a variety of methods to get our attention. Sometimes He'll give us a restless spirit. At other times He can get our attention through a word from a fellow believer, through tragedy, through unanswered prayer, through disappointment, and through financial difficulty, among other ways.
    
Whatever method God chooses to bring you within His will is perfect and is born of His love. He can see not only your present but also your future. He has plans for you and will keep you in precise accordance with those plans if you obey Him.
    
It is when we cease traveling on the path He has chosen for us that God has to get our attention. He may use one method today, another next week, another next year. Yet He always acts out of love and never out of whim, anger, or vindication.
    
Our response, then, should be to examine every single area and circumstance of our lives and ask the Lord to clarify what He is trying to show us and how He wants us to proceed.
    
God got Samuel's attention through someone else, his mentor Eli. When finally Samuel understood who was calling him, he told God that he was "listening." This particular Hebrew word means "to hear with a view to obeying." Samuel answered with clear intentions to obey though he had no idea what God would say next. May his response be our model.
FEATURED RESOURCE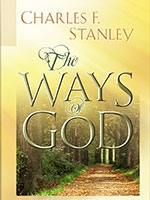 The Ways of God
from Dr. Charles Stanley
God's ways are always perfect, and following them leads to fulfillment and success. One of life's undeniable truths is that your choices will ultimately determine your future. While you can decide for yourself what career field to enter or who to marry, nothing compares with seeking God first and relying on the wonderful principles of His Word. In this series, Dr. Stanley teaches that as you serve God and seek His ways, you'll be blessed with peace, wisdom, and guidance for the journey ahead. Order here  now!
To see more resources from In Touch Ministries, please visit us at www.intouch.org  or go directly to our bookstore at In Touch Ministries.