December 14
Experiencing God's Goodness 
Psalms 31
When life is pleasant, we find praising God easy because His kindness is abundantly evident. However, we may have difficulty recognizing pain and trouble as an expression of His loving care. In difficult times, we need to trust today's Scriptures, which tell us that the Lord has stored up goodness for those who trust and obey Him.
If you feel that God is good only when your circumstances are enjoyable, then you misunderstand His nature and have become numb to the expression of His benevolence toward you. Those who have learned to know His character and trust His ways will be able to see evidence of His goodness in all situations.
I haven't always felt that the Lord was being good. While I was growing up, my goal was to be obedient so He wouldn't do anything bad to me. The difficult and painful situations in my life hindered my understanding of His goodness. Now as I look back, I can see His love and wisdom in allowing and using those trials to shape my character.
Today when God does something that I don't like, I pour out my heart to Him. After seeking His perspective and listening, I am filled with gratitude and trust in His character. And then I am willing to accept His wise choice for my life.
We live under the umbrella of God's goodness. When circumstances and feelings tell you otherwise, rely on what you know. Throughout the day, look for signs of His loving care for you. As your perspective changes, you will be able to see the signs of His goodness everywhere you turn. 
For more biblical teaching and resources from Dr. Charles Stanley, please visit www.intouch.org.
Click here to watch Dr. Charles Stanley & In Touch Ministries Video Online
and
click here to listen to Dr. Stanley at OnePlace.com.
FEATURED RESOURCE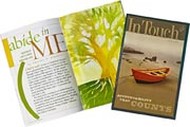 In Touch Magazine
Stories that Inspire, Teaching that Renews
If you like Dr. Charles Stanley's radio program, TV broadcast and books, then you'll love his free, award-winning monthly magazine. It's full of informative resources that will touch your heart and invigorate your faith. Every month, In Touch magazine brings readers daily devotionals from Dr. Stanley, in-depth Bible studies, inspiring articles and insightful teaching to help strengthen your family and your relationship with God. Click below to start your free subscription to In Touch magazine. 

Used with permission from In Touch Ministries, Inc. © 2009 All Rights Reserved.