In Touch Daily Devotional 
by Dr. Charles Stanley
---
December 2, 2006
The Right to Enter Paradise
Death is inevitable. The thief on the cross knew when his would occur, but we can not predict our own. After his death, the crucified criminal went to live in paradise with Jesus. Some of us will also live eternally in God's presence. But others will experience everlasting torment, forever separated from Him.
If we receive Jesus as our Savior, our penalty for sin is paid. We are adopted into God's family, and Heaven is our eternal home. If we reject Jesus, we remain alienated from the Lord and under condemnation for our sin. We are destined to experience eternal judgment. God won't accept any of man's excuses because there is no acceptable defense for unbelief. (Acts )
Become part of God's family today. Acknowledge your sinfulness, and express your faith in these words:
"God, I have sinned against You. (Romans 3:23) I've followed my own way and refused to give You the right to rule in my life. (Romans 3:10-12) I recognize I am separated from You and cannot rescue myself. I do believe that Jesus Christ is Your Son. I accept the truth of the Scriptures… that His death on the cross paid my sin-debt in full. (1 Corinthians 15:3-4) And I ask You to forgive me of my sins. (1 John 1:9) By faith, I receive You, Lord Jesus, as my personal Savior from this moment on."
If you just spoke those words to God, then, like the thief on the cross, you have received salvation… a gift of God's grace. The heavenly Father welcomes every person who comes to Him through His Son, regardless of background, age, or current situation. Through Jesus, the right to enter paradise is yours!
FEATURED RESOURCE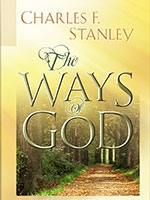 The Ways of God
from Dr. Charles Stanley
God's ways are always perfect, and following them leads to fulfillment and success. One of life's undeniable truths is that your choices will ultimately determine your future. While you can decide for yourself what career field to enter or who to marry, nothing compares with seeking God first and relying on the wonderful principles of His Word. In this series, Dr. Stanley teaches that as you serve God and seek His ways, you'll be blessed with peace, wisdom, and guidance for the journey ahead. Order here  now!
To see more resources from In Touch Ministries, please visit us at www.intouch.org  or go directly to our bookstore at In Touch Ministries.