In Touch Daily Devotional 
by Dr. Charles Stanley
---
December 29, 2006
More Essentials of Meditation
In yesterday's devotional, we explored three essentials of effective meditation. Today, let's round out the list by adding three more. Here are essentials four through six:
Silence is a key to meditation that many of us struggle with. How often do you sit down to pray and then do all the talking yourself? In Isaiah 30:15, the prophet reminds us that "in quietness and trust is your strength." However, we're not often quiet in prayer, are we? Sometimes we go on and on with our petitions and never actually give the Lord an opportunity to respond. How can we ever truly know His heart unless we stop and listen to Him in silence?
The fifth essential to meditating is self-control. This simply means admitting that you need to deal with some things in your life. God is continually refining us and shaping us into the men and women He wants us to be. As we surrender more and more to His will, we will have to bring these areas of our lives under His control.
The sixth, and final, essential is submission. Believers must submit to God. All of the prayer and meditation in the world will not make a difference in your life if you have a rebellious spirit. He desires to know you, use you, and mold you according to His best plan for you. This cannot happen if you do not intentionally submit to His work in your life.
Meditation can be hard work. But as with exercise, the rewards are well worth the effort. Ask the Holy Spirit's help, and make a commitment to start meditating today.
FEATURED RESOURCE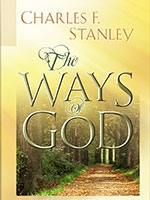 The Ways of God
from Dr. Charles Stanley
God's ways are always perfect, and following them leads to fulfillment and success. One of life's undeniable truths is that your choices will ultimately determine your future. While you can decide for yourself what career field to enter or who to marry, nothing compares with seeking God first and relying on the wonderful principles of His Word. In this series, Dr. Stanley teaches that as you serve God and seek His ways, you'll be blessed with peace, wisdom, and guidance for the journey ahead. Order here  now!
To see more resources from In Touch Ministries, please visit us at www.intouch.org  or go directly to our bookstore at In Touch Ministries.