January 15, 2009
A Lesson in Church Building
Deuteronomy 1:20-31
In 1991 I preached a sermon comparing my church family's situation to that of the Israelites on the edge of the Promised Land. We desperately needed a larger facility and toward that end acquired land a few miles from downtown Atlanta. We had three years to complete two overwhelming tasks: to raise the entire purchase price for a new building and to ensure that the church was ready for occupancy on the appointed date.
What I told my flock that day also applies to individuals. God has given His people a commission—to make disciples of all nations (Matt. 28:19). The Father gives different opportunities to each believer so we all can fulfill His command in unique ways. Since He never flings a door wide open unless He intends for us to go through it, stopping on the threshold is disobedience. Sometimes what little we can see on the other side looks frightening. But if the Lord is calling, then we need to do what He asks instead of dithering in the doorway. He assumes full responsibility for properly equipping and guiding us to complete the task.
Which brings me back to my earlier story. You may already know how it ends: God provided every cent—no bank loan was necessary—and the building was completed on time. From that new home base, the ministry expanded in our city and across the globe.
Are you standing in a doorway, too scared to move on? Step forward in faith. God made the opportunity, and He is faithful to see you safely through it, regardless of the obstacles.
FEATURED RESOURCE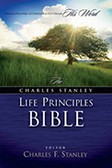 The Life Principles Bible
This Bible combines the wisdom of Scripture with the principles that guide Dr. Charles Stanley's life and empower his ministry. Order your copy.
To see more resources from In Touch Ministries, please visit us at www.intouch.org or go directly to our bookstore at In Touch Ministries.
Used with permission from In Touch Ministries, Inc. © 2008 All Rights Reserved.