January 26
Biblical Fasting 
Matthew 6:4-18
God's Word contains commands about many things, from frequency of prayer and expressions of worship to relationships with other people (1 Thess. 5:17; Deut. 6:5; John 13:34). Surprisingly, though, there is no place in the Scriptures where the believer is specifically instructed to fast.
Yet the words "when you fast" (Matt. 6:16, emphasis added) show Jesus' expectation that His followers would practice this discipline. And there are many biblical examples of godly people who abstained from certain activities in order to draw close to God.
Before we go further, it is important to dispel a popular misunderstanding. Fasting doesn't serve to change God's mind, speed up His answer, or manipulate His will. Instead, it prepares us to hear from Him by temporarily laying aside something that vies for our attention or devotion—such as food, sleep, or a time of intimacy with a spouse.
Denying ourselves in this way makes us better able to focus on Christ and hear Him clearly. His Spirit often starts by bringing to mind sin that needs to be confessed. In so doing, He sanctifies our thoughts—then He can use this precious time to intensify our desire for Him, reveal His Will, and grant understanding and peace. In essence, fasting binds us to Him in such oneness that we won't ever be the same again.
Do you want to see God move in awesome ways? By removing anything that hinders your focus, you can fix attention solely on the Creator and cry out to Him regarding your needs. As you gain understanding about your Father and yourself, you will grow closer to Him.
For more biblical teaching and resources from Dr. Charles Stanley, please visit www.intouch.org.
Click here to watch Dr. Charles Stanley & In Touch Ministries Video Online
and
click here to listen to Dr. Stanley at OnePlace.com.
FEATURED RESOURCE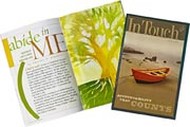 In Touch Magazine
Stories that Inspire, Teaching that Renews
If you like Dr. Charles Stanley's radio program, TV broadcast and books, then you'll love his free, award-winning monthly magazine. It's full of informative resources that will touch your heart and invigorate your faith. Every month, In Touch magazine brings readers daily devotionals from Dr. Stanley, in-depth Bible studies, inspiring articles and insightful teaching to help strengthen your family and your relationship with God. Click below to start your free subscription to In Touch magazine. 

Used with permission from In Touch Ministries, Inc. © 2009 All Rights Reserved.