In Touch Daily Devotional
by Dr. Charles Stanley
---
January 29, 2008 – God's Warning About Relationships – Ephesians 5:1-10 
            Because unbelievers lack an understanding of God's ways, their opinions and priorities can lead us astray. Christians must be very careful about the people with whom they intertwine their lives. 
            To help us understand this principle, Paul asks us to consider what the following have in common with each other: righteousness and wickedness; light and darkness; Christ and Satan (2 Corinthians 6:14-15). The answer is obvious—nothing at all. Righteousness is the antithesis of wickedness; darkness flees the light, and Jesus Christ and the Devil are eternally opposed. Because of the difference in nature, believers likewise have nothing in common with unbelievers. Outwardly we're similar, but inwardly we are totally different. You may ask: 
            1. What if I am already married to an unbeliever? First Corinthians 7:13 advises that you remain married and be a sweet fragrance of Christ in your home. 
            2. Does the principle apply to business? It is unwise to enter into a partnership with an unbeliever, since you'll have different priorities and perspectives. If you already have an irrevocable arrangement with an unbelieving business partner, be Christlike in all you do. 
            3. Where else do I need to be careful? This wisdom also applies when you want to join organizations that oppose the mention of Christ's name or churches that fail to see the need for a personal relationship with Jesus. 
            God's warnings are to be taken seriously, because He knows the future consequences of our mistakes.
FEATURED RESOURCE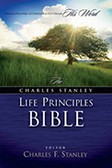 The Life Principles Bible
This Bible combines the wisdom of Scripture with the principles that guide Dr. Stanley's life and empower his ministry. Order your copy.
To see more resources from In Touch Ministries, please visit us at www.intouch.org or go directly to our bookstore at In Touch Ministries.