In Touch Daily Devotional 
by Dr. Charles Stanley
---
January 03, 2007 
How to Acquire Spiritual Discernment
In today's passage, believers are reminded that spiritual growth, like physical growth, is a long-term process. We do not instantly understand all spiritual things at the moment of salvation. Instead, we develop wisdom over time through study, prayer, and observation of God's principles in action.
We must especially seek spiritual discernment—that capacity to judge between right and wrong; good and best; divine will and personal pleasure. Unbelievers assume they are able to make wise choices without God's help. Even many Christians go through life never realizing God cares deeply about the decisions they make.
It is tragic when believers fail to understand the Lord has provided a personal Counselor to help them approach all decisions wisely. Everyone who trusts Christ as Savior is indwelt by the Holy Spirit. He offers divine guidance, revelation, and strength. Through His empowering gift, we have insight into the truth of our circumstances and the best way to handle them.
Once we grow past ignorance and lay down our pride, we recognize our dependence on Him. The Holy Spirit knows the thoughts of each believer He indwells. As part of the Trinity, He also knows the mind of God. With this dual knowledge, He directs us toward decisions in line with God's will. To impact others positively, we must be submissive to His guidance.
To be spiritually discerning believers, we need God's Spirit to enlighten us. He reveals truth from the Lord's viewpoint—the only perspective that matters.
FEATURED RESOURCE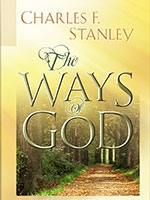 The Ways of God
from Dr. Charles Stanley
God's ways are always perfect, and following them leads to fulfillment and success. One of life's undeniable truths is that your choices will ultimately determine your future. While you can decide for yourself what career field to enter or who to marry, nothing compares with seeking God first and relying on the wonderful principles of His Word. In this series, Dr. Stanley teaches that as you serve God and seek His ways, you'll be blessed with peace, wisdom, and guidance for the journey ahead. Order here  now!
To see more resources from In Touch Ministries, please visit us at www.intouch.org  or go directly to our bookstore at In Touch Ministries.