Friday, July 11, 2008   -   Can God Use You?  -  Luke 10:38-42
Martha of Bethany welcomed Jesus into her home. Her act of service may seem small compared to works like the apostle Paul's missionary trips and letters. But she and her family provided a place of rest and refreshment for the Savior. This act must have been a welcome pause in His busy week.
It's true that Jesus once corrected Martha for placing too much emphasis on the details of hospitality. But when He visited her home, He no doubt anticipated food and fellowship with people He loved.
God's plan for every believer is made up of a lifetime of small opportunities. No matter what our career or calling may be. We should each seek ways to serve the Lord daily. We do this by ministering wherever we are to family, friends, neighbors, and co-workers.
The Lord gives His children gifts and talents for fulfilling His purpose. So, we know He wants to use us. The question we should be asking is, "Can God use me?"  That is, have we made ourselves available to follow Him in any circumstance?
The areas of service set aside specifically for us are waiting. No one knows ahead of time exactly what God will require, but we can be sure He'll equip us with the right tools for the task.
Are you ready to say "yes, God can use me?" Tell the Lord that you're available to work for Him in any way He desires. He will respond by placing people and opportunities in your path. Through His strength, you'll do more to further the kingdom than you ever imagined. One day and one small act of service at a time.
FEATURED RESOURCE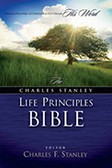 The Life Principles Bible
This Bible combines the wisdom of Scripture with the principles that guide Dr. Stanley's life and empower his ministry. Order your copy.
To see more resources from In Touch Ministries, please visit us at www.intouch.org or go directly to our bookstore at In Touch Ministries.