July 17, 2009
Waiting for God to Answer 
Psalms 17
Yesterday we learned several reasons why a prayer may seem to go unanswered. Consider one more: unconfessed sin. The Lord has promised to forgive transgression once we admit our action is wrong and turn away from it (1 John 1:9). If we only give lip service to our confession or refuse to change ungodly ways, petitions will not be granted. An unrepentant heart always hinders our prayer life.
What about those times when our heart is right and what we ask is in line with God's will, but He remains silent? Sometimes He waits because our longing for Him is in danger of being replaced by our desire for something else. Certain petitions—such as a request for a spouse, a baby, or a loved one's healing—generate strong emotions in us. Unless we are careful, these desires could divert our attention from God. He will not share first place with anyone or anything. Instead, He patiently waits for our focus
to return to Him before He answers.
At other times, the Lord uses delays to prepare us for future service or greater blessing. Or, He may want to strengthen our trust. Strong faith means believing Him even in trials, persevering while we wait for an answer, and being confident that He always keeps His promises.
Prayer is the communication link between us and our loving heavenly Father. Let's not allow "static" to block His message to us. Instead, we must confess and turn from all known sin. Then we will be able to hear God's voice and obediently carry out whatever He asks. 
For more biblical teaching and resources from Dr. Charles Stanley, please visit www.intouch.org
and
click here to listen to Dr. Stanley at OnePlace.com.
FEATURED RESOURCE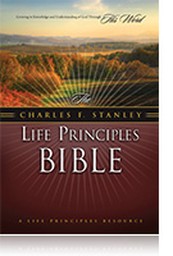 The NASB Life Principles Bible
You can now read the Scriptures in Dr. Stanley's favorite teaching translation -- the New American Standard -- while learning the 30 Life Principles that have guided him for more than 50 years. The new NASB Life Principles Bible will enhance your personal study time through explanation of key passages, plus helpful resources like "Answers to Life's Questions," concordance, maps, and much more. Available in leather and hardcover. 

Used with permission from In Touch Ministries, Inc. © 2009 All Rights Reserved.