July 19-20, 2008 The Weekend - A God of Love - Ephesians 3:17-19
The Lord doesn't base His love for us on our character or achievements. We know this because of God's promise in John 3:16 and His action in sending Jesus to die in our place.
The Savior's dealings with people show us the depth of God's love. Judas Iscariot, one of Jesus' disciples, ministered closely with the Lord for three years. In the end, Judas chose to betray Jesus. Even though Jesus knew what Judas would do, He never rejected him.
In another example of God's love, a woman was about to be stoned for committing adultery. She was condemned by the religious leaders. Jesus stepped in to protect her. Then, in love, He commanded her to sin no more.
And consider Peter. He loved Jesus and desired to follow Him always. In a moment of weakness however, Peter denied even knowing Christ. Jesus knew in advance the disciple would do this. But Jesus' love for the man didn't waver. In fact Jesus proved his love by appearing to Peter after the resurrection. Jesus gave Peter a prominent place in developing the church.
Two final examples of God's love include Zacchaeus, the greedy tax collector. He took advantage of his fellow citizens. And the Samaritan woman involved with a string of broken relationships and an immoral lifestyle. These facts didn't stop Jesus from approaching each of them and offering His forgiving love.
No one is beyond the reach of God's love. Through faith in Him, everyone, even the worst of sinners, can experience love's richness as His children.
FEATURED RESOURCE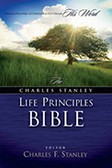 The Life Principles Bible
This Bible combines the wisdom of Scripture with the principles that guide Dr. Stanley's life and empower his ministry. Order your copy.
To see more resources from In Touch Ministries, please visit us at www.intouch.org or go directly to our bookstore at In Touch Ministries.