July 28, 2009
The Causes of Insecurity 
Psalms 8
Insecurity is a subtle danger. In order to recognize this problem in our lives, we must take an honest look at where it originates. Let's identify some common causes for a lack of confidence.
First, insecurity grows out of a persistent sense of being unaccepted. When we grow up thinking no one really likes us, we turn into chronically shy, unconfident adults.
Second, tragedy can initiate such feelings. Broken homes, the death of a loved one, and other relationship scars can be causes.
Third, a poor body image can damage self-esteem. The issue may be body shape, weight, birthmarks, hair loss, or anything else that leads people to see themselves in a negative light. The result is a sense of shame and self-consciousness that permeates every personal interaction.
Fourth, insecure individuals often have a history of feeling overshadowed by others. When this happens, they are preoccupied with people who seem smarter, wealthier, nicer-looking, more successful, etc. This creates doubt in their ability to achieve anything themselves.
Fifth, a serious "life failure" can result in a tremendous loss of self-esteem. Because we pour ourselves into our work and families, a setback in these areas has the potential of crushing our spirits.
If any of these causes sound familiar, examine your heart carefully for any resulting insecurity. Remember, this is a danger that can lie dormant for years before blowing up in your face. Don't allow it to fester in your heart any longer! Bring it to God, who wants to free you from its damaging effects. 
For more biblical teaching and resources from Dr. Charles Stanley, please visit www.intouch.org
and
click here to listen to Dr. Stanley at OnePlace.com.
FEATURED RESOURCE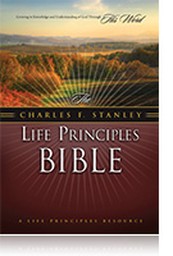 The NASB Life Principles Bible
You can now read the Scriptures in Dr. Stanley's favorite teaching translation -- the New American Standard -- while learning the 30 Life Principles that have guided him for more than 50 years. The new NASB Life Principles Bible will enhance your personal study time through explanation of key passages, plus helpful resources like "Answers to Life's Questions," concordance, maps, and much more. Available in leather and hardcover. 

Used with permission from In Touch Ministries, Inc. © 2009 All Rights Reserved.